Note:  Tune into the Illegal Curve Hockey Show on TSN Radio 1290 Saturday as the guys discuss the end of the Winnipeg Jets season and NHL news returning to the usual noon until 3 pm time slot.
Jets news:
Winnipeg Free Press:  Kane stresses progress.  Based on the injuries he was dealing with it is impressive that the young forward was able to grit it out and play as many games as he did.  Unfortunately it will cost him a chance to play for Team Canada at the World Championships in a week as he lets his body finally get the needed rest and healing it requires.
Winnipeg Free Press:  Injuries a factor in Jets' performance this season.  While many teams experienced injuries throughout the lockout shortened season, none was more critical than the loss of Zach Bogosian for the critical game against the Capitals.
Winnipeg Sun:  Antti Miettinen figures he, and other 'underachievers,' won't return to Jets.  Many fans have already started doing the work for Kevin Cheveldayoff and company as they began discussions of  who they don`t expect to see back next season.
Illegal Curve:  Coach Claude Noel end of season interview.  The Jets bench boss met with the media for his final interview for the 2013 season.
Illegal Curve:  Jets players end of season interviews.  We spoke to a number of players today including Andrew Ladd, Evander Kane, Zach Bogosian, Ondrej Pavelec, Chris Thorburn, Jim Slater, Nik Antropov,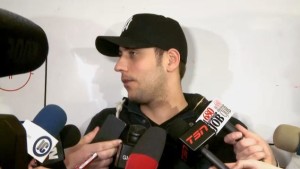 NHL.com:  Special-teams woes, poor starts hamstrung Jets.  Nothing special about the Jets special teams.