Jets news:
Winnipeg Free Press:  Hoping practice makes perfect.  They haven't had time to run a full practice very often this season, and coach Noel and company were quite happy to be able to put his troops through the paces after they held an optional yesterday.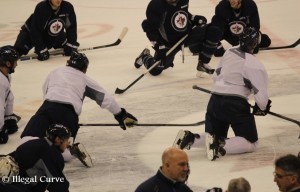 Winnipeg Sun:  Wellwood's younger brother Eric severs artery in AHL game.  The Jets already have had their fill of on-ice injuries of this nature.  Kyle Wellwood got the news that his brother had been injured on Sunday in an AHL game.  Luckily for Eric he was able to skate off the ice under his own power and has had surgery to repair the injury.
CBC:  Inner-city kids get a Jets surprise.  Hopefully the kids got a kick out of meeting Slater and Peluso.  Nice to see the guys in the community, rewarding young kids who have worked hard for the opportunity.
Illegal Curve:  Coach Noel post-practice audio.  Keeping focus on Buffalo. Having a full practice. Status of Ladd. Trouba fitting in.  Any confidence facing teams below them in the standings?  Top line finding net again.  Approach to team defence, how has it gone after 40 games?  Goals For down from last season (focus on power play).  Guarding against being complacent.  Warning signs.
Illegal Curve:  Player audio post-practice.  Chats with Jacob Trouba, Mark Stuart and James Wright.
Illegal Curve:  Winnipeg Jets Morning Papers.  If you missed any of the Jets news from this morning we have you covered.
Opposition (Sabres) news:
Buffalo News:  A day off in the Peg'.  Frequent guest on the Illegal Curve Hockey Show, Mike Harrington (@BNHarrington) is in-town and discusses his delight at discovering some snow in April.  The Sabres had the day off today in advance of their game tomorrow night at the MTS Centre.