Note: Make sure to @ tweet @illegalcurve with your guess during tonight's game you can win IC Gear by participating in our twitter Game Winning Goal. Remember that for your vote to qualify you must send in your guess by hashtaging (#) our Game Winning Goal (GWG) contest. (i.e. #ICGWG Tangradi).
Scoreboard watch tonight:  Devils @ Bruins | Flyers @ Leafs | Islanders @ Capitals | Lightning @ Hurricanes |
Jets news:
Winnipeg Free Press:  Jets to raffle off first team licence plate.  A very cool idea to raise more money for charity.  15,004 tickets available for purchase to get a chance to be drawn and win the first Jets licence plate.  Something tells me all 15,004 will sell and raise an additional $300,080.00 for charity.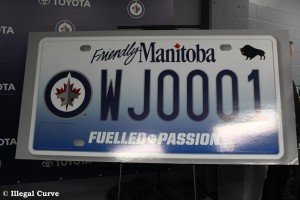 CBC:  Winnipeg Jets licence plates raise $800K for charity.  Not a bad cheque for the foundation which was raised through the generosity of Manitobans.
Winnipeg Free Press:  Byfuglien moves to forward as Jets chase playoff spot.  Desperate times call for desperate measures and while this reeks of desperation, with just a few goals by the forward corps over the last few days, coach Noel felt the need to make a radical move.
Winnipeg Sun:  Looking to snap funk against Canadiens.  The Jets had the day off yesterday while Montreal played a heavy game against the Flyers.  Can the Jets take advantage of this?  We shall see.
Illegal Curve:  Coach Noel pre-game from Bell Centre.  Talking about Mike Santorelli.  Buff as a forward.  Was the team distracted by trade deadline?  Why are guys pressing?  Expectations of the Habs.  Evaluation of how team has handled last few weeks.  Play of Aaron Gagnon.  Signing of Jacob Trouba.
Winnipeg Sun:  Adam Lowry joining IceCaps.  He had a beast of a final year in junior playing for the Swift Current Broncos and now will take his skills to the East coast as he signed an ATO to play with the Jets farm club.