Note: Stay tuned to IC for all the post-game audio from coach Noel, the Jets/Leafs dressing rooms and our post-game podcast from the pressbox.
Note II: Stick to @illegalcurve as we will be bringing you all the latest from the MTS Centre as the Leafs visit the Jets. During the game you can win IC Gear by participating in our twitter 50/50 and Game Winning Goal contests. Remember that for your vote to qualify you must send in your guess by hashtaging (#) our 50/50 contest or the Game Winning Goal (GWG) contest. (i.e. #IC5050 $39,650 or #ICGWG Ladd.)
Jets news:
Globe and Mail:  Carlyle, Reimer return home as Leafs face Jets.  It isn't everyday that a favoured son returns to your city and Jets fans will gladly welcome home Randy Carlyle and company this evening at the MTS Centre.
NHL.com:  Maple Leafs, Jets can continue winning streak.  Some interesting news and notes on tonight's game.
Winnipeg Free Press: Defence line has been saving grace this season. Considering the injuries that this team is dealing with that is quite the statement.
Winnipeg Sun: Byfuglien won't be back for game against Leafs. Good to read that he is back on the ice working with the Jets strength and conditioning coach.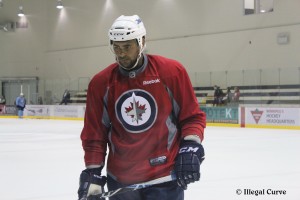 Barrie Examiner:  Scheifele's dream rests in Winnipeg.  Stick tap to reader Robert who pointed out this good read with the Barrie perspective on the return of Mark Scheifele.
Illegal Curve:  Coach Noel pre-game presser.  Zach Bogosian's progress report.  Dustin Byfuglien progress report.   Tobias Enstrom assessment.  Talk about the Leafs.  Randy Carlyle discussion.
Illegal Curve:  Jets Morning Papers.  If you missed any of the action we have all the latest Winnipeg Jets, IceCaps, prospects as well as NHL news of interest to fans.