Note:  After the game, be sure to check us out for all the post-game reaction. As soon as the site is updated we notify you via twitter @illegalcurve and Facebook.
Jets news:
Winnipeg Free Press:  Jets start three-game road trip without defenceman Toby Enstrom.  Ed has this report from the road in Ohio following practice.
Winnipeg Sun:  Enstrom out, Clitsome in against the Jackets.  Ken is in Columbus and files his story from the road on what you can expect to see in tonight's contest.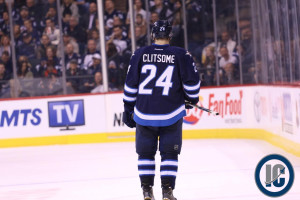 NHL.com:  At the Rink.  Correspondent Craig Merz gives you his insight on the game.
Illegal Curve:  Coach Maurice pre-game scrum (audio).  Status of Toby Enstrom.  Result of the hit with Steen?  Thoughts on TJ going on waivers.  Is anyone coming up?  Perreault having a shot on the PP.  What made this a good start for Hutchinson?  What does he want to see from his guys?  On Clitsome's game before he got sick.  Is it easy for a team to overlook a team like Columbus?.

Illegal Curve:  Jets place TJ Galiardi on waivers.  Looks like the GST 2.0 line was short lived.
Illegal Curve:  Jets vs. Blue Jackets projected lineups.  Take a look at what the lines looked like after practice today and what combos you should expect to see at Nationwide Arena this evening.
Illegal Curve:  Morning Papers. If you missed any of the news this AM we have you covered.  
Blue Jackets news:
Columbus Dispatch:  AM #21.  Read the latest from Nationwide Arena on today's Jets opposition.