The Winnipeg Jets have acquired defenseman Grant Clitsome from the Columbus Blue Jackets off of waivers.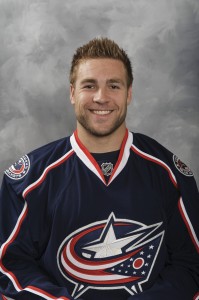 From the Winnipeg Jets official press release
The Winnipeg Jets today announced they have claimed defenceman Grant Clitsome off waivers. Clitsome was placed on waivers by the Columbus Blue Jackets and will now report to the Jets.

Clitsome, 26, has played in a career 93 NHL games with the Columbus Blue Jackets. During that time, the defenceman collected 36 points (9G, 27A) and 46 penalty minutes. He's played 51 games with the Blue Jackets this season, recording 14 points (4G, 10A) and 24 penalty minutes.

He was originally drafted by the Columbus Blue Jackets in the ninth round, 271st overall, in the 2004 NHL Entry Draft.
Illegal Curve's Richard Pollock: "you never want too many defeseman, he's a left handed shooting defenseman, not the tallest guy, but built tough. He can move the puck out of his own zone. he does alot of what Johnny Oduya does, at less than half the price. If you are going to be the Winnipeg Jets and can fill the 5th or 6th defense spot with Clitsome for less than $2 million, and move Stuart up to the 4th defenseman, this is a good move by them."
Clitsome is under contract for next season at a cap hit of $1.25 million.
Winnipeg will have to free up a roster spot to make room for Clitsome by trading a player, or moving a player to the IR. It is expected that Johnny Oduya, who is a UFA after this season will be on the move to Boston or Chicago.
Coach Claude Noel, who coached Clitsome in Columbus, had this to say about the newly acquired defenseman at a media conference this afternoon, "smart player, shoots the puck real well, has good hockey intelligence, is reliable defensively, he becomes another part back there and we'll figure out how to manage it."
The newest Jet appeared on the Illegal Curve Hockey Show Monday afternoon and was welcomed to Winnipeg by the boys. Here's what he had to say:
Listen to the interview here, or continue reading.
Grant Clitsome on coming to Winnipeg:
"Thrilled, I'm really excited, I had no idea what was going to happen, it was my first experience being put on waivers, you don't really know what's going to happen until 12 o'clock, when I found out I was thrilled, I can't wait to get there.

"It's exciting, playoff hockey is so fun to be a part of, I haven't had the opportunity in my professional career to be a part of that. To be a part of that playoff push is really exciting."

"I heard I should get some warm clothing, that's been the biggest piece of advice so far. We played there in the preseason this year and I played against the Moose, I've been there a few times. The fans I couldn't' believe I that exhibition game this year, it was the first game they played. The fans were phenomenal it was so loud in that building it was a pretty cool atmosphere and it was only the preseason, I cant imagine what a regular season game would be like."
On his experience with Coach Noel:
"I played for Claude Noel in my first call up to the NHL with Columbustwo years ago. I feel comfortable with Claude I think he's a great coach, he's done a fantastic job this year, I'm looking forward to be working with him. I'm flying out tomorrow morning, I'll get in tomorrow ill be watching the game tonight for sure."
On his style of game:
 "I try and work hard, and be physical, I try and make sure I'm getting my shots through to the net and contribute offensively while being reliable defensively."
On his conversation with GM Kevin Cheveldayoff:
 "We did touch base, basically just welcoming me to the organization and telling me he was excited to have me aboard, we didn't have a chance to get into details, it was just a welcome to the team conversation."
Articles:
Aaron Portzline (@APortzline): "Clitsome Claimed by Jets" Here's Portzline's blog post on the acquisition, includes quotes from Clitsome.
Ed Tait: Jets Pick up Clitsome from Blue Jackets
Tweets from around the media:
Grant Clitsome (@GClitsome): "Very excited to be a Winnipeg Jet!"
David Shoalts (@dshoalts) : Jackets D Grant Clitsome claimed on waivers by Wpg Jets: "Kind of bittersweet. Organization put lot of time in developing me." Clitsome, who rejoins Jets coach Claude Noel, former CBJ assistant: "I'm excited because they're in playoff push. Claude's a character guy."
Darren Pang (@Panger40): "Good pick up by Jets getting Grant Clitsome off waivers."