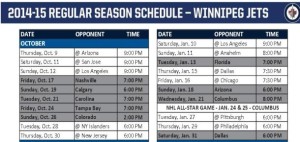 Jets Release:
The Winnipeg Jets Hockey Club, in conjunction with the National Hockey League, today released their 82-game schedule for the 2014-15 NHL regular season.
The Jets will open their fourth season back in the NHL with a three-game road trip, beginning with a visit to Jobing.com Arena to face the Arizona Coyotes on Thursday, October 9. Game time is 9:00 p.m. CT. The Jets will later open their 2014-15 home season at MTS Centre on Friday, October 17, against the Nashville Predators. Game time is at 7:00 p.m. CT.
There will be eight all-Canadian match-ups at MTS Centre during the 2014-15 season as Winnipeg will host the Calgary Flames on October 19 & April 11, the Edmonton Oilers on December 3 & February 16, the Toronto Maple Leafs on January 3, the Ottawa Senators on March 4, the Montreal Canadiens on March 26, and the Vancouver Canucks on April 4.
The Jets will play six weekend afternoon games at MTS Centre throughout the year, as well as three home games which will start at 8:00 p.m. CT. The schedule will once again feature a New Year's Eve match-up as Winnipeg will host the New York Islanders on Wednesday, December 31 at 4:00 p.m. CT.
The Jets will face their Central Division rivals – Chicago Blackhawks , Colorado Avalanche, Dallas Stars, Minnesota Wild, Nashville Predators and St. Louis Blues – a total of 29 times with 14 of those match-ups coming at MTS Centre. The Jets will play the remainder of the Western Conference from the Pacific Division – Anaheim Ducks, Calgary Flames, Edmonton Oilers, Los Angeles Kings, Arizona Coyotes, San Jose Sharks and Vancouver Canucks – a total of 21 times with 11 of those games coming at home. The Jets will also host and visit every team in the Eastern Conference once throughout the 2014-15 season.
Winnipeg's longest home stand will run five games beginning with their home opener against Nashville on October 17 and concluding October 26 versus the Colorado Avalanche. The team will take to the road for a season-high five consecutive games beginning November 8 in Ottawa against the Senators and wrapping up November 16 at the Xcel Energy Center versus the Minnesota Wild.
Start times indicated on the attached schedule are in central time. Times may vary depending on broadcast requirements. Television broadcast schedules have yet to be determined. However, all 82 games will once again be broadcast on TSN 1290 this season.
Check out a PDF version of the Jets 2014-15 schedule.