The cold streak that Patrik Laine is currently on has been well documented but just by way of quick refresher it has gone as follows:
October: 3 goals (12 games)
November: 18 goals (12 games)
December: 3 goals (15 games)
January: 1 goal (12 games)
February: 0 goals (8 games).
Today Cap Friendly, which is our go to resource for all things cap related, put out this series of tweets about how his recent cold streak could impact his bonus for goals and could therefore be an advantage for the Jets as the trade deadline approaches:
Food for thought:

(1/2) On Nov 29 #NHLJets Patrik Laine scored his 20th & 21st goal of the season, which had him in first place in the league for goals scored.

Since then Laine has scored 4 goals, and currently sits 34th in the league in goals scored.

Why is that important?

— CapFriendly (@CapFriendly) February 19, 2019
(2/2) Anything outside the top 10 means Laine misses out on a $1.8M 'B' bonus.

It also mean that the $1.8M the #NHLJets had earmarked as a possible bonus in Nov, can maybe be used at the trade deadline instead.

$1.8M at the deadline is equal to an $8.37M cap hit at full value.

— CapFriendly (@CapFriendly) February 19, 2019
Someone asked the Cap Friendly folks about the ramifications of Laine getting hot and hitting those bonuses by the end of the season.
hey Kevin. Great question. If the amount of bonuses earned at the end of the season pushed the clubs final number above $79.5M, then any amount above the ceiling would be need to be subtracted from the Jets available cap space in 2019-20 in the form of an overage penalty.

— CapFriendly (@CapFriendly) February 19, 2019
Of course if he should have another month like November it could put the Jets into a rather sticky situation.  As of today's date Patrik Laine is just seven goals back of being in the top 10.  So while the above makes for an interesting thought I don't see the Jets taking on this type of risk.  Regardless of what happens it will be an exciting run up to the trade deadline next Monday.
As always stay tuned for the latest Winnipeg Jets and Manitoba Moose news by keeping it locked to illegalcurve.com and on social media including Twitter | Facebook | Instagram.  And you can follow me on twitter as well (@icdave).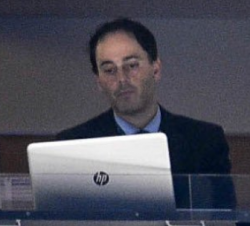 Latest posts by David Minuk (see all)