NHL.com:  Haviland to interview for Winnipeg coaching job.  Are we to be Chicago of the North?  Portage & Main can get kinda windy.
TSN:  MacTavish expected to meet with GM Cheveldayoff.  Certainly a name that will get some attention for the organization. Blog post also has a few words on when fans can expect this team to have a formal name.
FraserDavidson:  Winnipeg Jets Brand Proposal.  As you can see from the below pictures of the day, these two guys have put together a very impressive proposal for True North.
Star-Ledger:  Devils' search for a coach has Craig Ramsay on their radar.  Not surprised that other team's are interested in Ramsay.
Winnipeg Free Press: TNSE would do wise to keep Ramsey around.  Gary Lawless submits his vote, and it's for a unique collaborative head coach/associate coach effort between Claude Noel and Craig Ramsey.

Winnipeg Free Press: The chance may never come again, Claude Noel.  Given that he toured North America with the Manitoba Moose this past season, there is probably no one in Winnipeg with the knowledge and insight into Claude Noel like that which Tim Campbell possesses.
Winnipeg Free Press: The grizzled veteran, Craig Ramsey.  Ed Tait looks at the Craig Ramsey's body of work and examines why he would be a good choice to be the head coach of the franchise
Winnipeg Free Press: The hot rookie, Kirk Muller. Universally thought of as the next big thing in the coaching ranks, Kirk Muller gets examined by Ed Tait.
Toronto Sun:  'Peg NHL coaching gig intrigues Murray.  Interesting that the pride of Souris, Manitoba thinks it is time we break away from the Jets moniker.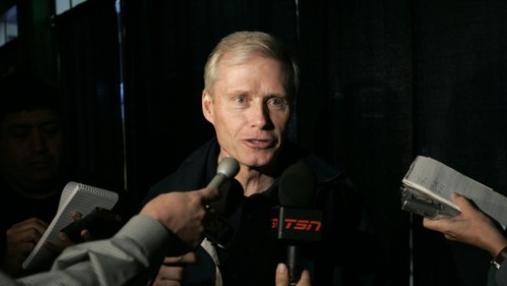 After the jump more blog posts and Game 7 news.
Sault St. Marie This Week: Trevor Daley settles into Soo for summer.  Nice to get some love.
"You never want to see a city lose its team but I'm happy and excited for the people of Winnipeg. We have to grow our game and make it better and I think having a team in Winnipeg will be a big part of that."
Winnipeg Sun:  Scouting Winnipeg's new team.  A "mystery" Eastern Conference scout gives his ratings on the team.  For our own in-depth analysis of the team, check out Richard's 5 part assessment.
Blogs:
The Sporting News:  Former NHL coach Andy Murray hasn't heard from Winnipeg franchise.  Guess he isn't on True North's list, yet.
ESPN:  NHL returns for Winnipeg's John K. Samson.  Always been a fan of his music.  Another vote for a new name.
Atlanta Thrashers Fan Club:  Player appreciations.  Giving fans an opportunity to say goodbye to the team.
The View from 111:  What's different about Winnipeg.  Someone needs to tell Conference Board of Canada that the Bombers have sold over 20,000 season tickets.
Game 7 News:
Forbes:  Stanley Cup Final fetching big bucks.  $12,000 for a hockey game.  I'd suggest you buy yourself a 100″ tele and watch in HD from the comfort of your own home.
Postmedia News: The Unpredictable Game 7.  Given how bizarre this series has played out thus far, I am ready for anything to happen tonight. My prediction: Fedor Fedorov comes out of the stands to score the GWG for Vancouver in the 4th overtime
Canadian Press: No re-enactment of 1994 riots.  As someone who was in Vancouver during the Olympics, the vibe on the streets and between citizens and police was friendly and joyous, so I would be surprised to see that change tonight. The swarms have people who have invaded downtown Vancouver have been mostly peaceful. Let's hope that continues tonight, win or lose.
Today's Picture(s) of the Day:
Comes via two very talented graphic designer's (Fraser Davidson and Brian Gundell) who have finally given us something tangible to see.