In game 37 of the season, the Moose took on the Grand Rapids Griffins (AHL Detroit) at Bell-MTS Place. The Moose were nearing the halfway point of their 76 game schedule, and despite Monday night's loss to the Griffins, they still sat first overall in the AHL with a record of 25-6-3-2, and first in the division by 12 points. However, the team's record since the recall of Jack Roslovic was just 2-1-2-0. Eric Comrie got the start in goal – after missing time with an injury, it was just his second start since December 15.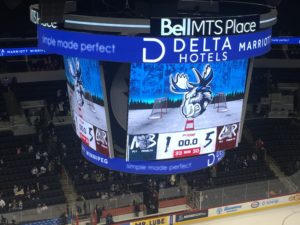 Lineup
1-Robinson-Sgarbossa-Appleton
2-Petan-Cormier-De Leo
3-Beauvillier-Spacek-MacLise
4-Kramer-Sutter-Lodge
Stoykewych-Poolman
Melchiori-Niku
Kulevich-Gotovets
Comrie
Hutchinson
Game Recap
Just 53 seconds into the game, Mason Appleton made a great stretch pass to spring Buddy Robinson on a breakaway, and he sniped high glove on Jared Coreau. It looked like the home club was off and running, but only seconds later, Sami Niku had his stick lifted by Matt Lorito, who came in all alone and outwaited Eric Comrie to tie the game at 1. Shortly thereafter, Mason Appleton fed Mike Sgarbossa for another great chance – a tip coming off the rush – but Coreau just managed to get a piece of it. From there, the Moose had a flurry of chances, and 14 shots in just the first 10 minutes of the 1st. (They out-shot the Griffins 14-4 to that point). But after completing dominating the entire period, the Griffins scored with just 43 seconds left – Corey Elkins snuck behind Tucker Poolman, took a pass in stride, and beat Eric Comrie high blocker side. As a result, the visitors snuck out of the first with a 2-1 lead.
Shots after the first period were 18-10 Moose
In what appeared to be a potential turning point, Eric Comrie committed grand larceny on a Moose pk, going from his left to right to rob a Griffin forward with his blocker. The save came 5 minutes into the second, and the Moose had a few chances midway through the game, but were unsuccessful. Play was fairly 7:29 left in the second, Francis Beauvillier took a holding penalty, and the Griffins were able to capitalize, as Axel Holmstrom threw a hard pass through the slot, which bounced off a Moose defender and in.
The Moose were out-shot 12-10 in the second period
Already down 3-1 the Moose got off on the wrong foot when just 3:34 into the third, a Griffin's centreing pass from the far corner ricocheted off the side of the net, off Comrie's right pad, and in. An early period Moose powerplay proved fruitless, as the team looked disorganized and had difficulty generating anything offensively. Francis Beauvillier had a good chance 7:23 in, and was able to draw a penalty, but again, the powerplay was disjointed and ineffective. With 1:48 left in the game, Winnipegger Dylan McIlrath added insult to injury when his seeing-eye shot made the score 5-1.
Scoring Summary
Official game sheet link
Game Notes & Other News
The Moose were without 4 key skaters tonight including 1) AHL all-star Jack Roslovic – on loan to the Jets. 2) AHL all-star Cam Schilling – injured. 3) Brendan Lemieux – on loan to the Jets. 4) J.C Lipon – injured
– Nic Petan's 10-game point streak (13 points in 10 games) ended tonight. He has 30 points in 30 games on the season, but in this game, it looked like he was trying to take the world on his shoulders to help ignite the offence and instead, it mainly led to a pile of giveaways
– Mason Appleton recorded his 35th point of the season tonight in 37 games. He tied the absent Roslovic for the team lead with 35 points, and leads all AHL rookies in scoring. However, he has just 4 points in 7 games since his linemate (Roslovic) was recalled. Appleton was one of the few bright spots in tonight's game, as he was still generating a lot of offence without adding any risk to his game
– Eric Comrie came into the game with a record of 10-4-1-1, 2.40 GAA, .924 save %. He gave up 5 goals for just the second time this season – the other time being his first game of the year, also against Grand Rapids.
– Tucker Poolman played his second game since being loaned from the Jets. He looked a little slow – both his feet, and his decision making – and looked like a player in need of more confidence
– Promising defender Sami Niku was held scoreless tonight and seemed to miss his defensive partner, Cam Schilling. He got beat on the game's first goal, and otherwise didn't generating the type of offence we're accustomed to seeing from him. He has 24 points through 37 games, and leads all rookie D in scoring
– After playing a few games on the top line, Michael Spacek was centreing the 3rd line – a line which, until recently, would have been the team's 4th line. As a group, they didn't generate much, and were on the ice for two key goals against (goals 2 and 4). It's worth noting that of Spacek's 15 points this season (30 games played), he had only 5 in the first 15 games, and 10 points in the next 15. He was held scoreless tonight.
Health Update
Coach Vincent indicated post-game that Cameron Schilling was day-to-day with a lower-body injury.
Video
#MBMoose forward Buddy Robinson scored the lone goal in the 5-1 loss to Grand Rapids, and spoke about finding consistency #GoMooseGo pic.twitter.com/QqMhIUgjPH

— Manitoba Moose (@ManitobaMoose) January 11, 2018
"When we slow it down, we're just an average team," –#MBMoose Head Coach Pascal Vincent after the teams 5-1 loss to Grand Rapids #GoMooseGo pic.twitter.com/6yc0UagBvl

— Manitoba Moose (@ManitobaMoose) January 11, 2018
Next Game Action
Saturday, January 13 at Bell-MTS Place vs. the Iowa Wild.