Winnipeg Sun:  Thrashers head scout will play QB at draft table.  Will be quite the stage to be auditioning on.  Interesting note on Kris King joining front office.  I'm interested to see how that plays out.
CBC:  Winnipeg NHL vote on tap in New York.  The Winnipeg Whatchmacallits is an interesting new generic name as we await word from True North, although currently the Winnipeg Whatevers is the standard name used.
Winnipeg Free Press:  Two-man coach race between Noel and Haviland.  One is a well know commodity within the organization and the other is well known to the new GM.

Winnipeg Free Press:  League brass poised to officially bless transfer of Thrashers to True North.  We will have to wait until around 2 pm for "official word".
Winnipeg Free Press:  Brushing up on fancy footwork.  Good move by True North.  Winnipeg may forgive them if they chose another name, but leaving Dancing Gabe out in the cold would be unforgivable.
Winnipeg Free Press:  Unwrapping of big secrets may feel like Christmas.  Might we actually learn the team name soon?
Winnipeg Sun:  Chevy's all revved up.  He's only been the GM for a few weeks and I'm already tired of the car analogy's.  Doesn't sound like too many people are kicking at True North's tires (two can play the car analogy game) looking for a trade.  As an aside and completely unrelated to this article, we now are left wondering whether or not he actually drives a Chevy.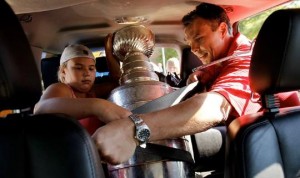 Fox News:  Winnipeg, head hits on Board Agenda.  If Commish Bettman has already given the move his blessing, you can bet that today's vote will be unanimous in favour of Winnipeg.  I'm just "excited" (sarcasm) because today is the day the TSN Jets Meter finally hits 100%.
More NHL in Winnipeg as well as a number of general NHL articles after the jump.
Atlanta Journal Constitution:  Winnipeg passes on Ramsay.  Rumour is that New Jersey is interested in Ramsay and now that Winnipeg isn't, perhaps he will be given an opportunity in the swamp.
Winnipeg Sun:  Anything but Jets, please.  I'm at the point where I no longer care.  I think most people are just wanting a name.  Any name.  As long as it isn't Polar Bears or Moose or Falcons which leaves us with….Jets.
Atlanta Journal Constitution:  Q and A with NHL Commissioner Gary Bettman.  Good friend to the IC Radio show and top notch journalist Chris Vivlamore had an exclusive interview with Gary Bettman and asked him a number of questions I'm sure fans in Atlanta wanted answers to.
NHL News:
Arizona Republic:  Glendale's Westgate City Center scheduled for auction.  If Hulsizer pulls off both purchases, it may be time to get him a statue in Glendale.  Unless he's still planning on using the city's money that is.
Philly News:  Flyers' Holmgren confident he will land Bryzgalov.  If he can regain his regular season form, in the playoffs next season, the Flyers would be a scary team to face.
Ottawa Citizen:  Look for Murray to wheel and deal.  The Senators have a lot of picks and a number of quality players in the prospect pool, so perhaps a move up might be in the cards.
Kansas City Star:  Don't get too excited about NBA, NHL exhibitions.  Interesting read on what the Sprint Center has meant to Kansas City and why AEG may be happier without a major anchor tenant.

Detroit Free Press:  Red Wings in market for defenceman.  If anyone can make it happen, it's Wings GM Ken Holland.
Montreal Gazette:  Markov deal in works, agent says.  Appears that the Canadiens have more than enough funds to get him signed.
TSN:  Ryan Smyth tells Kings he'd prefer to return to Edmonton.  Could Captain Canada be returning to where it all began?  This excitement seems premature as it doesn't seem like the Kings are likely to deal him after he finished 4th on the team last season and adding an older player may not be what the Oilers brass have in mind in developing their young core.  However it ends up, nice to hear of a player actively seeking to come to Edmonton.