The Finnish Flash has played his last official regulation game in Winnipeg, and barring a playoff match-up, has likely seen his last ice time at the MTS Centre.  It was a party like atmosphere starting with his arrival and in case you missed anything here is a recap.
Selanne arrived at 1:30 am Sunday morning to his hotel and was mobbed by autograph/picture seeking fans.  He stayed until every last photo and autograph was taken.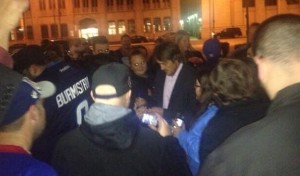 About ten hours later he was on the ice for an optional skate.
This was followed by a media swarm that is only held for those in highest esteem.
Pre-game presser:
Teemu Selanne – Will he soak it up longer this time? Can anything top the reception he received in 2011? Can he play another 5 or 6 years? His thoughts on Don Baizley. Connection to fans (i.e. signing autographs). How does he feel sitting out back-to-backs? How does he feel at 43? Has the scare of an early end to his career ensured he enjoys every day? Fuelled by the fans back in 2011? How did he know this was going to be his last year? Golf promo. Finishing his career where it started. Did Olympics impact his decision to return? One memory that sticks out (breaking Mike Bossy record not surprisingly). Relief to finally announce it was his final year. Who negotiated his last contract? Message to the Winnipeg fans. Will this game be easier, emotionally? What would be perfect night tonight? Where did golf idea come from? Is family gonna be here this time? (said no, it's too warm). His documentary. Now that he knows its his final tour, does it feel different?
He then returned to the hotel for pre-game activities.
Back at the MTS Centre for the warm-up skate you got the sense he was really soaking up the atmosphere.
He may be a winger, but he was the center of attention for all media this day.
We saw the new number 8 match-up with the old number 8.
Coach Boudreau had him playing a variety of roles.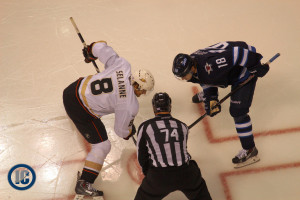 During a 1st period TV timeout the Jets took a moment to allow the fans a chance to give him a proper ovation.
The game was somewhat unspectacular, and was certainly not the same as the one held back in 2011, but still fans had a chance to cheer the Finnish Flash.  Especially when he was voted 1st star of the game.
Another mob scene of media followed the conclusion of the game.  Our own Ezra Ginsburg was on hand to ask some questions and got a rare English and Finnish interview with Teemu.
Post-game presser:
Teemu Selanne – His thoughts on the crowd and how did it compare to 2011? Nice to get the win tonight? What was going through his mind during pre-game warm up? What has the city meant to his career? Is this last time we see him as a player? What's his message to the fans? Did he feel his line mates were trying to feed him tonight? Surprised by reception? How did he like getting 1st star? Thoughts on playing with Perry and Getzlaf? ("Bruce likes to change his lines like underwear"). His take on the Jets. Thoughts on Lindholm. Does he keep mementos from the places he visits? Where will the moment rank for him?
Teemu Selanne (in Finnish) – How did he feel about the game tonight and being back in Winnipeg. Aside from Winnipeg aspect, how did he feel about game in general? What is his fondest memory of Winnipeg? How did fans treat him tonight?
Then he and his Anaheim teammates left for sunny California and Jets fans were left with another batch of memories of the Finnish Flash.
Feel free to share your best Teemu memories, old or new in the comments section.