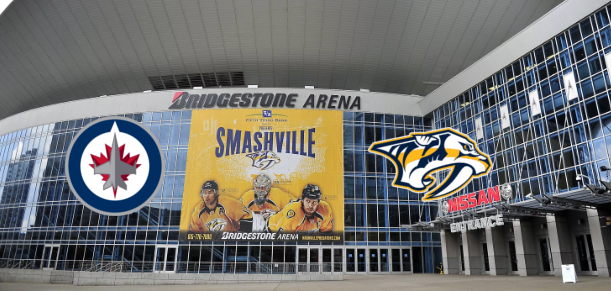 Suspect there are two very anxious fan bases who didn't get much sleep last night who are just "slightly" anticipating this game.  Before that happens at 7 pm tonight at Bridgestone Arena in Nashville the teams will have morning skate.  Three Jets (Little, Enstrom and Trouba) didn't take part in the practice on Wednesday at the IcePlex with expectations that it was simply maintenance although it will be interesting to see if they take part this morning.  However, we know that it will not confirm whether they play tonight nor should we expect any confirmation from the Jets bench boss following skate.
Lines listed below are based on the last game.
AM Skate Notes:
According to Ken Wiebe of the Winnipeg Sun a few players skipped today's skate including Dustin Byfuglien, Tyler Myers and Paul Stastny.
Projected Jets lines and D pairs:
Connor-Scheifele-Wheeler
Perreault-Stastny-Laine
Copp-Lowry-Tanev
Ehlers-Little-Armia
Morrissey-Trouba
Enstrom-Byfuglien
Chiarot-Myers
Hellebuyck
Mason
Extra: Roslovic, Hendricks, Kulikov, Matthias, Dano, Morrow, Poolman and Hutchinson.
Jets audio:
Blake Wheeler
Mark Scheifele
Patrik Laine
Andrew Copp
Coach Maurice:  How do you impose your will on your opponent in a game 7?  What does a victory for the Jets look like?  Has he seen the way the team channel the energy in the right way?  Can you equate a high level game at a lower level to a game 7?  Having new blood with potential to win the Stanley Cup and whether it is good for the NHL.
Courtesy of TSN 1290 Winnipeg.
Projected Predators lines and D pairs:
Here is the latest from Nashville according to beat writer Adam Vingan of the Tennesseasn who indicates that the Predators' morning skate today is optional. He indicates that these were the lines they practiced with yesterday:
Forsberg-Johansen-Arvidsson
Fiala-Turris-Smith
Sissons-Bonino-Watson
Hartnell-Jarnkrok-Hartman
Preds audio:
Coach Laviolette
Courtesy of TSN 1290 Winnipeg.