Note: Reminder that if any Stanley Cup Playoff games go to overtime, we will be having our CompuStitch Embroidery Design #ICOTPOOL contest. Similar to the #ICGWG contest in that you pick one player (total) from either team and @ tweet us (@illegalcurve) with your selection as well as the hashtag #ICOTPOOL. Winner gets IC Gear so always ensure you send in a pick and following the game be sure to check out the IC Contest Winner page to see if you've been selected.
Tonight's Stanley Cup 2nd Round Game:
Canadiens at Bruins @ 6:30 pm cst.
Rangers 2 Flyers 1 (New York wins series 4-3):
New York Daily News:  Rangers beat Philadelphia Flyers in Game 7, will face Penguins on Friday.
Philly.com:  Six observations on the Flyers loss.
Wild 5 Avalanche 4 in OT (Minnesota wins series 4-3):
Minneapolis Star-Tribune:  Niederreiter's OT goal lifts Wild over Avalanche.
Minneapolis Star-Tribune:  Wild fans around the state react to game-winning goal.
Denver Post:  Varlamov character guy after absorbing 5-4 overtime loss.
Denver Post:  Avs' great season takes back seat to blowing chance to advance.
Kings 5 Sharks 1 (Los Angeles wins series 4-3):
L.A. Times:  Kings complete historic comeback with 5-1 win over Sharks in Game 7.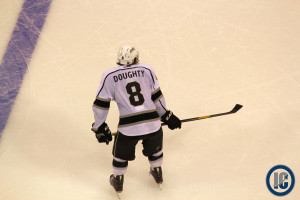 San Jose Mercury News:  Sharks live down to reputation.
Other Cup news:
CBC:  Sizing up Eastern Conference semifinals.
AHL Playoffs – IceCaps news:
The Telegram:  IceCaps in control.
Albany Times Union:  Kowalsky 'We didn't put enough shots on net'.