Stanley Cup news:
Philadelphia Daily Inquirer:  Flyers get greatness from Giroux.  His play was simply spectacular all series long.  He broke a Flyers team record for points in a series with 13, previously held jointly by Daniel Briere in the 2010 Cup Final and Bill Barber in the 1980 semifinals (12).
Pittsburgh Post-Gazette:  Underachieving team squanders opportunity.  Quite the post-mortem on the Penguins and where it all went so wrong for a team so many picked to win the Stanley Cup this year.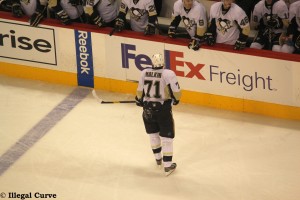 Boston Herald:  No longer missing link, Tyler Seguin saves Bruins.  Despite being quiet for the last 5 games, the Bruins young gun rose to the occasion when the defending champs needed him most, scoring the OT winner and sending the series back to Boston.
Washington Post:  Game 7 will be a fitting end to closely-contested series.  As someone who predicted this series would go 7 (won by the Capitals) I'm not overly surprised that the contest is heading back to Beantown.
Los Angeles Times:  Kings eliminate the Canucks with 2-1 overtime win.  And just like that the President Trophy winners were eliminated from the post season.  The Stoll OT winner crushed the hopes of Vancouverites and sent the Kings to the 2nd Round for the first time in eleven years.
The Province:  Canucks fall 2-1 to King in OT.  It seems unbelievable that the team many expected to challenge Pittsburgh for the Stanley Cup is out of the playoffs in just 5 games.