Stanley Cup news:
Star-Ledger:  Devils stay alive with 3-2 overtime victory.  The first time in this series neither of the teams jumped out to a 3-0 lead.  Fitting that this ended in what feels like the 100th OT of the first round.  Winnipegger Travis Zajac finished off the game and send it back to Florida for Game 7.
Miami Herald:  Zajac's goal in OT forces game 7.  Will the rats be flying in South Florida on Thursday night?  Do you expect the Devils or Panthers to win the final game?
Star-Ledger:  Panthers president Michael Yormark berates Devils fans on Twitter.  Simply fantastic.  This is why social media is so amazing and necessary.  Follow-up; the Devils invited one of the tweeters who was scolded by the Panthers President (He told her "you have 70 followers. No one cares what you think.") to the game tonight and they put her behind him.  She now has close to 700 followers and growing.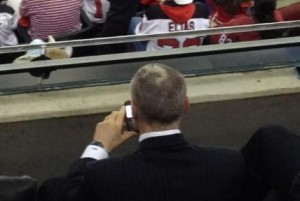 Other Playoff news:
Globe and Mail:  Ovechkin 'angry' at declining ice time.  The Caps are going to need an angry and fired-up Ovechkin when they face a tough Bruins team in Game 7.
Globe and Mail:  Alfredsson doesn't know what set off Game 6 tirade.  Nice to see the Captain show some emotion.  We will see if he can harness that anger and use it to help his team.