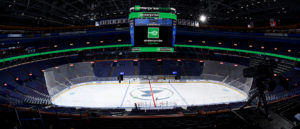 Connor Hellebuyck was a rock in net, and the Jets go into St. Louis and get their second win against the Blues in a span of five nights.  Jets goals from Harkins, Laine, Copp and Ehlers.
For those who would like to take a deeper dive into the advanced stats here are the results from the game via Natural Stat Trick.
Notable:
Jansen Harkins scored his first career NHL goal.  It was also the Jets 2015 2nd rounder's first multi point game in the NHL.
Patrik Laine scored his 20th goal of the season which gives him at least 20 goals in each of his four seasons in the NHL.
The empty netter goal by Nikolaj Ehlers was his 109th career goal which the Jets PR notes tells me means he moves ahead of Marian Hossa into 10th in goals in franchise history.
Audio:
Jansen Harkins
Connor Hellebuyck
Nathan Beaulieu
Coach Maurice:  His thoughts on the third line.  Harkins scoring his first NHL goal.  Does the message (going to the net) get easier to sell when you are getting results?  Going down to five D.  Update on Sbisa?  Play of Connor Hellebuyck.  Not giving up many goals the last four games.
All audio courtesy of TSN 1290 Winnipeg.
Health Update:
No update on Luca Sbisa other than they had it X-rayed and it was negative but they want to get it looked at again. Indicated it may be "short-term".
Up next:
The Jets have a practice scheduled for Friday at 1 PM in Winnipeg.  You can kick start your day with the AM Jets papers which go live tomorrow at 7 am on illegalcurve.com.