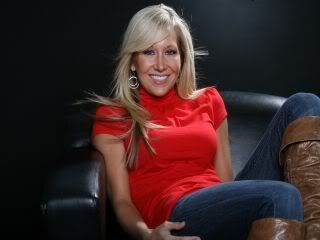 When I covered the idea of what it takes to be a cheerleader in the NHL and whether or not it has a place in hockey, many readers commented on the site or emailed me with a range of opinions on this subject.  Not surprisingly some were positive and others felt it was a needless distraction.
Luckily, we here at Illegalcurve are happy to have Lauren from the Carolina Hurricanes Storm Squad sit down and answer some questions for us and give us her inside look into what it takes to be a member of the cheerleading fraternity in the NHL.  And lest you think this knockout is just good looks, be aware that she can crush you with her brain (she is currently doing a joint law/mba degree).
1.   Did you grow up as a hockey fan? What attracted you to hockey?
My entire family is from the Philadelphia area, so when I was younger my parents hung a Flyers pennant in my room. I have to say that I didn't truly fall in love with hockey until I attended my first Canes game. After that, I was hooked.
2.   What first got you interested in working as an ice girl for the Hurricanes?  What was the process like to become a member of the Storm Squad?
I was always impressed with the way the girls promoted the team and interacted with fans at games I would go to. It was something I wanted to be a part of and I enjoy spreading my love for the Canes.
The Storm Squad tryouts happen over the course of a couple of days. The first day is an interview session, much like you would see in an office setting. The girls invited to return for the second day are tested on in-game situations, camera interviews and fan interaction. It's extremely competitive. The Storm Squad has been the benchmark for fan promotion teams in the NHL and it's a high standard to meet. 
3.   How do you balance your time between being in law school (concurrent with doing an MBA) and your duties for the Hurricanes?
Actually, the Storm Squad keeps me pretty sane! I love what I do and it's a great release. The hardest part was finals because they fell right in the middle of the playoffs. I would often bring my books to the locker room and squeeze in study time before our pregame meeting. Being able to watch a lot of great hockey helps, too.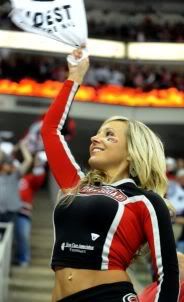 4.   The NFL and NBA have cheerleaders, but the idea is still relatively new to hockey. How have you been received by the fans? 
We enjoy a unique environment in the RBC Center. There's a great support base of diehard Caniacs who really "get it" – they know that we are reaching out to the community in a positive way. The Storm Squad really set the pace for similar squads as one of the first teams, so it's not so new here. But I do hope that the idea spreads. The fan culture in Carolina has contributed in a number of ways to the NHL, with things like tailgating and the raucous atmosphere, and we have tried to set a great example.
5.   What are your responsibilities as an NHL Ice Girl? Obviously you work at the games, but are there other community responsibilities?
Community outreach is one of the most important things we do. I get a great deal of satisfaction out of making someone's day when we get to meet fans outside of the game environment, especially newcomers to hockey. I'm on a mission to convert the entire state into Caniacs. I figure that if we can get Bill Cowher to crank the hurricane siren, we can pretty much get anybody.
6.   How much time and preparation do you take to prepare for a game? 
It can be time-intensive. We have to cheer in front of thousands of fans, so there's probably more hair and makeup preparation than I care to admit! We like to get out and mingle with the fans for an hour or more before each game.
7.   Have you ever dated an NHL player?  Are there any rules against that?
There is an extremely strict no-fraternization policy in place for both the girls and the players. As far as I know, most if not all of the other fan promotion teams around the league have similar policies. We know that some people have misperceptions about what kind of interaction ice girls may or may not have with teams, and we make it a point to dispel that notion.
8.   Do people recognize you guys outside of the arena? Have you ever been approached for an autograph?
Surprisingly, this happens quite a bit. There's usually that momentary pause where the person has to put two and two together, but with as much Hurricanes apparel as I have, it usually doesn't take them too long.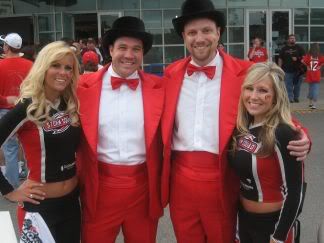 9.   What's the best way to pick up a cheerleader?
That's easy. Can you name the last 20 Vezina Trophy winners from memory?
10.   When you're done as a member of the Storm Squad and you finish school can you see yourself working in hockey in some capacity?
I love being a part of something special with the Hurricanes. I have always wanted to pursue a sports-related career down the road, so if the opportunity presents itself, you can bet I will probably take it.
11.  What are your predictions for the Hurricanes 2009/2010 season?  What do you think they can do differently this year to get back to the Stanley Cup?
We are coming off a very successful season, both on and off the ice.  It's a great time to be a Hurricanes fan.  I think we built a great foundation this year to set up a run at the Cup in the coming season.
12.  Who is your favorite Hurricane player of all time?
It's hard to just pick one.  There have been a lot of memorable players involved with the team in a short amount of time.  I think the obvious pick for me would be Ron Francis, who really set the bar here in Raleigh and continues to contribute to the team.  You can't ask for more than that.  In terms of unforgettable players, there are probably more Mike Commodore fans here than in Columbus.  It was so easy to root for him, because he left such a mark on Caniac culture.
I just wanted to thank Lauren for taking time to answers our questions and wish her a great summer.  We look forward to hearing more from Lauren and her Storm Squad as the 2009/10 Hurricanes season begins.