Game Notes – Manitoba Moose Award Ceremony:
– In their last home game of the season, the Moose handed out their annual team awards:- After an exhilarating NHL appearance in the final Jets game of the season, Kyle Connor returned to clean up on the awards front – he won the "Three Stars" award (most points earned from three-star selections), the Manitoba Moose Rookie of the Year Award, and the Moose MVP Award. Through 49 games, he scored 23 goals and added 19 assists, and posted the 4th highest points-per-game average in the AHL among rookies (.86)
– Prior to his 49th appearance of the season, Eric Comrie was awarded the team's "Julian Klimkiw Community Service Award". Comrie regularly visited local schools in an effort to improve literacy
– The "Best Defenceman Award" went to Kevin Czuczman, who led all Moose defenceman in goals and points, and was  the only Moose player to play in every game thus far this season
– C Michael Spacek and C Jansen Harkins – both coming off promising WHL careers – were in the lineup for their second AHL game this season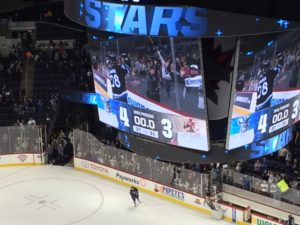 Lineup:
Connor-Roslovic-De Leo
Harkins-Cormier-Lipon
Beauvillier-DeSalvo-Lodge
Kramer-Spacek-Olsen
Strait-Nogier
Czuczman-Green
Kicthon-Kostalek
Comrie
Phillips
Scoring Summary:
First Period
Moose Goal (1): Francis Beauvillier got a loose puck right out front and buried low to open the scoring; his 4th goal in just 7 games after joining the Moose following two years at the University of New Brunswick (CIS).
Moose Goal (2): Darren Kramer came down his off-wing (right side), kicked his leg up at the faceoff dot, and snuck a shot through Marek Langhamer.
Roadrunners Goal (1): On the PP, AHL star Chris Mueller sniped top shelf, short side on Comrie  to pull the Roadrunners within 1. His 63rd point of the year.
Second Period
Roadrunners Goal (2): Mitch Moroz asserted himself, taking a bank off the boards and firing a shot upstairs past Comrie, who wasn't quite flush to his post on the short-side.
Moose Goal (3): A great play behind the net by Captain Patrice Cormier – he stole the puck from the goaltender and fed it out front to J.C Lipon who found the empty net. Lipon's 11th goal of the year; Cormier's 28th point.
Roadrunners Goal (3): Talented Arizona prospect Christian Fischer entered the zone patiently on his off-wing, set up on the left half-wall, and fired a wrister towards the net which was deflected past Comrie by Michael Bunting.  
Moose Goal (4): After some pressure in the Moose zone, Ryan Olsen skated the puck out of his team's end, and all the way down the left wing with speed; he backhanded the puck towards the net, and it went in off the Tucson defender and in. Olsen's 7th goal of the year – a new career high.
Player Assessment:
LW Kyle Connor & C Jack Roslovic: The dynamic duo dominated large stretches of the first period, taking complete control of  the puck and cycling endlessly in the offensive zone. They worked together on the PK, and nearly had a shorhanded goal based on Connor's blazing speed. Connor also made a dynamic play in the third where he turned a 1-on-2 into a fantastic scoring chance, cutting to the slot and zipping a high backhander on net across his body. A treat to watch these two play together.
C Michael Spacek: He nearly had his first AHL goal on a wicked shot from the slot – a half-slapper that beat the goaltender high blocker side but caught the left post. Overall, he wasn't quite as noticeable today as in his debut on Friday, but he certainly is a prospect to be excited about given his high skill level.
C Jansen Harkins: Continues to be an effective forechecker along with Cormier and Lipon. Shows good hockey sense and positioning. He desperately needs to improve his first-step quickness, though his skating is fine once he's up to speed. He hasn't touched the puck a whole lot in his first two AHL games this season – he showed a bit more puck poise when he debuted last year as an 18-year-old.
RD Luke Green: Green recorded his first AHL point (a secondary assist) on the game's opening goal by Francis Beauvillier. Overall, he continues to look a little overmatched at this level – which is totally understandable for an 18-year-old defenceman out of the QMJHL who doesn't have the advantage of size or professional experience. The puck skills are certainly there.
G Eric Comrie: He wasn't busy in the early going, but came up big in the third when he stopped a penalty shot with 12 minutes to go, keeping the Moose up 3-2. The one he'd like to have back is the Roadrunners' second goal of the game – one where he got surprised by a quick shot and wasn't yet square to the shooter. His play tonight was "just ok" by his standards, albeit he has set a high bar.
Audio:
Coach Pascal Vincent
Nelson Nogier
Ryan Olsen
Kyle Connor
Next Game Action:
The Moose season concludes with a pair of road games later this week in Cleveland – Thursday April 13 and Friday, April 14.