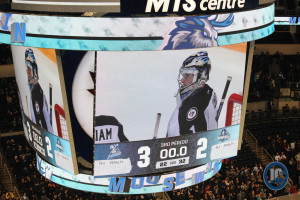 The Moose had a solid week of practice following a rough road trip before they welcomed the Milwaukee Admirals to the MTS Centre.  Joel Armia was playing his first game action in almost three weeks as he was re-assigned by the Jets to play in this weekend's games.  While the Moose only have six wins on the season three have come against a very good Milwaukee team that has just eight losses on the season.  Highly unusual but clearly Manitoba has their number.
Lines:
Halischuk-Cormier-Albert
Armia-Petan-Fraser
De Leo – Kosmachuk – Fronk
Olsen-Brassard-Raffl
Harrison-MacWilliam
Morrissey – Melchiori
Stokewych-Kostalek
Comrie
Olkinuora
If you'd like to see tonight's game sheet here is the link.
Top 3 Moose:
1) Eric Comrie – After giving up a goal I'm sure he would like back he was solid for the rest of the game. He didn't give up any second chance opportunities and was easily the best Moose player on the ice.
2) Chase De Leo – Played a pretty slick game including a greasy goal (which turned out to be the game winner).
3) Julian Melchiori – Solid game by #44 who tied the game with a shot from the point.
Post-game audio:
Coach Keith McCambridge
Eric Comrie
Chase De Leo
Julian Melchiori
Matt Fraser
Injury news:
Both J.C. Lipon and Brenden Kitchton missed the game due to injury.
Next game:
Sunday, December 13th at 2 pm at the MTS Centre in Winnipeg.