The Skinny:
The Moose swept the IceHogs last weekend to kick off this six-game homestand on the right skate.  Tonight they faced their biggest challenge of the season (to date) as the Stars from Texas are in Winnipeg to play two games.  Texas came into the action holding a four point lead over Manitoba for fourth in the Central (although the Moose have two games in hand).
Moose Lineup:
Dano-Shaw-Appleton
Lipon-Spacek-Griffith
Harkins-Girard-D'Aoust
Fejes-Maclise-White
Stanley-Poolman
Schilling-Nogier
Oligny-Beaudoin
Comrie
Berdin
Gameplay:
– The Moose were a bit loose defensively in the opening period allowing the Stars a couple of early chances;
– Texas had two power play opportunities in the opening 20 but the Moose PK was solid;
– Shots ended 8-5 in favour of the visitors;
– Cam Maclise tipped home a Logan Stanley shot to open the scoring early in the 2nd;-
– About a minute later the Stars scored a similar type of goal to tie the game;
– The visitors would take the lead on one of the oddest bounces I've ever seen (that resulted in a goal)
Seemingly defying the laws of physics. Although I never took physics in school so I'm not qualified to say what those laws actually are…. pic.twitter.com/lqbXGwoRPo

— Dave Minuk (@ICdave) March 14, 2019

– Marko Dano would tie the game at 2 after deflecting a Schilling shot (similar to Maclise goal);
– Late in period Jimmy Oligny hesitated just long enough to freeze the netminder and Cam Schilling made no mistake blasting it into the now empty net to give Moose a 3-2 lead.
– The 2nd would end with the Moose up 3-2 and a 11-9 shot edge made it 17-16 for the visitors.
– The Stars would tie it just after a Moose penalty to Cam Schilling had expired in the 3rd;
– Jansen Harkins dipsy doodled and then fed Girard who scored to make it 4-3 with just over five to go;
– Moose would hold on for the 4-3 win.
Notable:
This Moose team at Bell MTS Place continues to be just ridiculous. They pull off a huge 4-3 win over the Stars and are now 15-1-0-1 in last 17 games here in Winnipeg which improves them to 30-26-3-2 on the season.
Audio:
Cam Schilling
Jansen Harkins
Coach Vincent
Standings:
The Central got a bit more muddled as Milwaukee won this morning and Manitoba won (obviously):
4. Texas 67 pts (63 games)
5. Milwaukee 66 pts (64 games)
6. Manitoba 65 pts (61 games)
7. Rockford 64 pts (61 games)
8. San Antonio 60 pts (61 games)
Next Game Action:
This sets up to be a busy weekend for Manitoba who will have a re-match with the Stars on Friday night and then meet up with the San Diego Gulls for a pair of games starting on Sunday.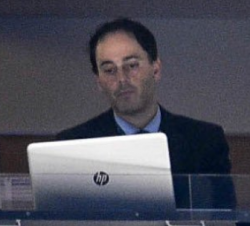 Latest posts by David Minuk (see all)