The Skinny:
The Moose were looking to stay hot at home having gone 3-0-1-0 during the first four games of this six game homestand and overall were on a 15-1-1-1 run since Christmas.
Moose Lineup:
Vesalainen-Shaw-Griffith
Dano-Spacek-Appleton
Harkins-Girard-Lipon
Fejes-Maclise-White
Stanley-Poolman
Schilling-Nogier
Oligny-Beaudoin
Comrie
Berdin
Gameplay:
– The Moose just couldn't seem to generate much in the first half of this hockey game;
– Shots would seem to indicate the game was close but it felt like the Gulls controlled play;
– They scored three times on 14 shots in the 1st period to take a commanding 3-0 lead;
– Manitoba had some chances to get back into it but couldn't really get into any high-danger areas;
– In the 3rd veteran Ryan White put the home side on the board with his second goal in five games;
– Right after the Moose goal White and Jake Dotchin got into a verbal sparring match at centre ice;
– It ended with White making an exaggerated belly at Dotchin (for those who want backstory click here);
– They continued to jaw at each other in the penalty box;
– It would be Dotchin who got the last laugh however as he scored into an empty net to make it 4-1;
– As he skated by the Moose bench he did the exaggerated belly move the entire length of the bench;
– I can honestly say that may have been the most unique exchange I've seen which didn't end in a fight.
Notable:
That was just the second regulation loss for the Moose at home in the last 19 games (15-2-1-1) as they fall to 30-27-4-2 on the season.
Injury News:
Tucker Poolman sustained a lower-body injury in the 1st period according to coach Vincent.  He came back into the game one minute into the 2nd period but was unable to complete it.  The Moose bench boss didn't have any update as to the extent of the injury.
Audio:
Kristian Vesalainen
Ryan White
Coach Vincent
Standings:
4. Rockford 70 pts (64 games)
5. Texas 69 pts (65 games)
6. Milwaukee 67 pts (65 games)
7. Manitoba 66 pts (63 games)
8. San Antonio 60 pts (64 games)
Next Game Action:
The Moose will wrap up this six-game homestand on Tuesday night as they look for a measure of revenge against these Gulls.  Puck drop is at 7 pm.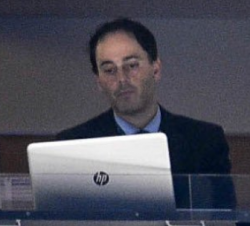 Latest posts by David Minuk (see all)