The Skinny:
The Moose have won the first three games of this six-game homestand including a massive 4-3 win over the Stars on Wednesday night.  That victory put Manitoba just two points back of Texas for the fourth and final playoff spot in the Central Division which sets up tonight's game as a massive showdown (although worth noting that the Moose have two games in hand on Texas).
Moose Lineup:
Griffith-Shaw-Appleton
Dano-Spacek-Lipon
Harkins-Girard-D'Aoust
Fejes-Maclise-White
Stanley-Poolman
Schilling-Nogier
Oligny-Beaudoin
Comrie
Berdin
Gameplay:
– An early PP for the Moose could have given them a way to take control early but they couldn't do much;
– Three goals in ten minutes of the opening period (including a shorthanded one) gave Stars a 3-0 lead;
– Shots were 11-10 in favour of the Moose after 20 minutes.
– Mikhail Berdin started in net for the 2nd period;
– Logan Shaw scored six seconds into the fourth Manitoba PP of the game to bring the home side closer;
– But the Stars would answer back on a PP of their own to regain three goal lead;
– This period shots were 10-9 in favour of Texas which meant both teams had 20 shots after 40.
– After 40 minute the visitors held a 4-1 lead.
– The Moose looked like they would get a bit closer when Tucker Poolman "scored" this beauty
Correction Tucker Poolman did not score a beauty goal because Stars goalie Philippe Desrosiers knocks the net off. What say you? #AHL #MBMoose pic.twitter.com/3ynqmpLOTJ

— Dave Minuk (@ICdave) March 16, 2019

– But because the net was dislodged (despite it being done by the goalie) it was ruled no goal;
– A few moments later Mason Appleton wired home a shot top corner to make it 4-2 (again);
– Just over two minutes later Marko Dano tipped home a shot on the PP to make it a 4-3 game;
– Three minutes after that Jimmy Oligny completed the comeback depositing a shot into an open net;
– Three goals in under five minutes to tie the game as this team refuses to quit.
– A late power play for Manitoba but they couldn't get it to go;
– The game was tied after regulation so OT would be needed.
– Texas had some power play leftover for a Girard penalty late but couldn't get any traction;
– However with the penalty over the managed to ring a shot high on Berdin to give them a 5-4 OT win.
Notable:
The loss drops the Moose to 30-26-4-2 on the season. They are now 15-1-1-1 in last 18 games here in Winnipeg.
Quote of the Night:
Coach Vincent on the game played by Tucker Poolman this evening "Tucker Poolman was playing like he was in the wrong league. He was outstanding. Best game I've seen him play with us".
Audio:
Marko Dano
Tucker Poolman
Coach Vincent
Standings:
How is this for a muddled Central after the games tonight
4. Texas 69 pts (64 games)
5. Manitoba 66 pts (62 games)
6. Rockford 66 pts (62 games)
7. Milwaukee 66 pts (64 games)
8. San Antonio 60 pts (63 games)
Next Game Action:
An old friend turned foe will make his return on Sunday as the Moose welcome Chase De Leo and his San Diego Gulls to town for a pair of games.  It is an afternoon affair on Sunday with puck drop at 2 pm.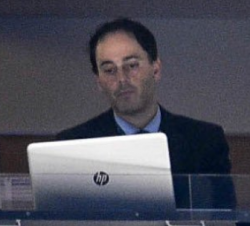 Latest posts by David Minuk (see all)