The Moose took on the San Jose Barracuda at Bell-MTS place on Sunday afternoon, in a rematch from the previous day. The Barracuda brought the home team back down to the earth in that game, handing the Moose their first regulation loss since November 12. Despite the loss, the Moose still woke up this morning first in the division by 11 points, first in the conference by 9 points, and 4 points ahead of the Providence Bruins for first overall in the AHL.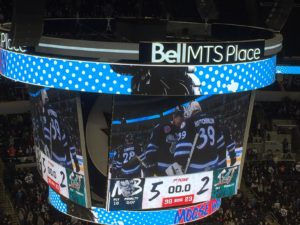 Follow me on twitter @PegPeteHockey for Manitoba Moose coverage and Winnipeg Jets prospect updates
(1) Lineup
1-Petan-Appleton-Spacek
2-Lemieux-Cormier-Robinson
3-De Leo-Sgarbossa-Lipon
4-Beauvillier-Sutter-Maclise
Schilling-Niku
Gotovets-Stoykewych
Kulevich-Kostalek
Hutchinson
Phillips
Scratches: Comrie (day-to-day), Nogier (long-term shoulder injury)
PP1:
Lemieux-Appleton-Petan
Spacek-Niku
PP2:
Robinson-Cormier-Sgarbossa
Schilling-De Leo
(2) Goal Summary
1st Period
Moose Goal (1): On an early powerplay in the first, Sami Niku slid the puck across to Michael Spacek at the left point, and he fired a one-timer low blocker side on former Toronto Marlie goaltender, Antoine Bibeau.
Moose Goal (2): Mike Sgarbossa wrapped it around the net and fed Chase De Leo in front, and he chipped it high blocker side past Bibeau.
The Moose won the shots battle in the first, 12-4  
2nd Period
Barracuda Goal (1): After a terrific pk by the Moose, Michael Hutchinson let in a stinker – a lazy shot from the corner. However, he also knocked the net off as the puck went in. The goal was reviewed and stood. Hutchinson had a few words for the referee following the review.
Barracuda Goal (2): With most of  the Moose huddled and out of position on the right boards, Adam Helewka was left all alone in front and beat Hutchinson five-hole to tie the game.
Moose Goal (3): On the powerplay, Chase De Leo took a pass from Buddy Robinson and fired a quick, low shot which snuck past Bibeau.
Shots after 40 minutes were 25-12 in favour of  the Moose
3rd Period
Moose Goal (4): Peter Stoykewch walked the line, fired a shot on net, and the puck took a bounce in front off Buddy Robinson and found its way in.
Moose Goal (5): On a 5-on-3 powerplay, Nic Petan blasted a low one-timer from around the right faceoff dot to put the Moose up 5-2 with just over 6 minutes left in the third
Final shots were 38-23 for the Moose
(3) Official Game Summary
Game sheet link 
(4) Games Notes & Other News
Chase De Leo scored 2 goals, including a powerplay marker which stood up as the game winner. He also added an assist to bring his point total to 22 through 33 games
In his second game on the top line, Michael Spacek looked very poised and dangerous with the puck. He scored yet another powerplay goal with his patented one-timer from the left point – his 3rd goal on the year scored in exactly this fashion. He also added an assist, giving him his second multi-point game of the season
Buddy Robinson continues to produce, with a goal and an assist. He sits third in team scoring with 29 points in 33 games
Brendan Lemieux had an assist, 3 shots, and a minor penalty. He sits second in PIM's on the team with 50 through 22 games, but also is putting up a point-per-game through 22 games
Sami Niku left the game early in the second period after taking a big hit in the corner. After a trip to the dressing room, he came back later in the second, and only missed a few shifts. He also had an assist in the game, and has 22 points in 33 games – very impressive stats for a rookie d-man
With the win, the Moose move their record to 24-6-1-2, and – for the moment – extend their division lead to 13 points (pending tonight's results)
(5) Audio
Coach Pascal Vincent
Michael Spacek
Chase De Leo
(6) Next Game Action
The Moose next play on Friday, January 5th – a road game in Chicago against Vegas' farm club