With the Jets cutting loose Portage la Prairie's Troy Bodie, they have now gotten down to the requisite 23 man roster for opening night.  They currently have 4 players on the injured list (Fehr and Gagnon on long term whereas Maxwell and McArdle are day to day).
Here is your 23 man Winnipeg Jets roster with our projected lines* and defensive pairings*.
Goalies:
Defencemen:
Pair 1:  Tobias Enstrom, Dustin Byfuglien
Pair 2:  Mark Stuart, Zach Bogosian
Pair 3:  Johnny Oduya, Ron Hainsey

7th & 8th D-men: Randy Jones, Derek Meech (can also fill in as 14th forward)
Forwards:
Line 1:  Bryan Little, Andrew Ladd, Blake Wheeler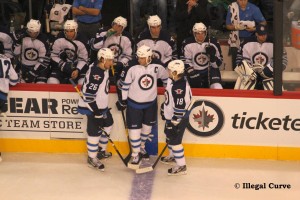 Line 2: Evander Kane, Mark Scheifele, Kyle Wellwood
Line 3: Brett MacLean, Alex Burmistrov,Nik Antropov
Line 4: Tanner Glass, Jim Slater, Chris Thorburn
**Updated: Patrice Cormier has been sent to the AHL and the Jets have claimed Brett MacLean off waivers from Phoenix.
13th Forward:  Tim Stapleton
*These are the projected lines and defensive pairings according to Illegal Curve, which we've observed throughout training camp.  Once we have the definitive list, we will make any changes (if need be).