Today is firefighter appreciation day at the MTS Centre as the Moose are wearing these specialty uniforms in today's re-match with the Chicago Wolves.  (Some of the pictures can be clicked on so you can see them up close and personal).
I went down to the main level at MTS Centre to check out the uniforms a little more closely as I know fans often like to see the finer details associated with a new uniform.  As you can see the team moved the Moose logo to the top shoulder and made it red.
An additional detail to these uniforms is that the names of the 80+ firefighters who have lost their lives are embroidered in a band that wraps around the entire jersey.  Here is a shot of the back:
While taking the above picture I noticed a lady who was searching through the list of names.   Her name is Angel Stoyko and it turns out she was looking for the name of her husband, the late Captain Richard Stoyko.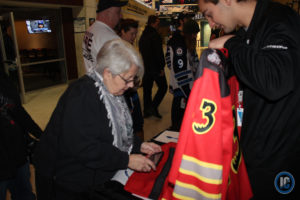 She eventually found his name and told me about him being a champion of health benefits for firefighters who get sick from work related ailments.
The uniforms on display on the concourse at MTS Centre are being auctioned off to the highest bidder at the game with the game worn jerseys being sold online.
They didn't look too bad on the players either.  Defenceman Kevin Czuczman modeling the front and back of the unis:
And Ondrej Pavelec takes a break from making saves (he got to 20 of 21 in the opening frame).
The uniforms will be auctioned off with the proceeds going to the Manitoba Fallen Firefighter Foundation.  You can find out details on Moosehockey.com.