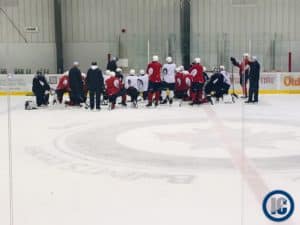 The Moose were back on the ice today after a Sunday off as they prepare for a pair of games this next weekend at Bell MTS Place against division rival Grand Rapids.  I outlined earlier today the fact that the team has added two more players (C.J. Suess & Emile Poirier) to the laundry list of injured players.
Reflections on the two games against the Marlies:
After losing 7-2 and 5-1 to Toronto this past weekend you could imagine that Manitoba head coach Pascal Vincent wasn't overly pleased with those results.  Looking at the Friday night game he said "I didn't like the compete level.  Not that it wasn't there but that it wasn't there consistently.  So I didn't like that.  We cannot afford not to compete every shift.  We lost too many 50/50 battles.  I felt we didn't stick to our plan."  In terms of the game on Saturday coach added "I liked the way we responded.  I thought our battle level was right and we stuck to the plan.  Even the 3rd period we played the right way.  We had more 5 on 5 scoring chances than they did.  But offensively we didn't connect, on short plays like the five foot passes, were not on the tape.  But the mind set was right which can give you a chance to compete."
Czeching in with Michael Spacek:
Michael Spacek was part of that stellar 2015 Jets draft class (4th round, 108th overall) and he has come on of late after a slow start to the season scoring twice and adding five assists in his last five games.  Overall in 25 games this season for Manitoba he has three goals and 15 assists (leads the team in this category).  After scoring once on Saturday he almost added to his total but the Marlies tender had other ideas:
#Marlies G Michael Garteig has committed a robbery, folks. #MarliesLive @NLGrowlers pic.twitter.com/ek9DhX2OXv

— Jacob Stoller (@JLStoller) December 16, 2018
Coach had this to say about the second year pro "I thought the second part of the (California) road trip he started playing like a top offensive line player.  I thought the last game against Toronto was pretty good.  For Michael Spacek, when he is tracking hard, I know he is going to have a good game and everything will fall into place."
New face on the squad:
Last week Manitoba added Brent Pedersen (2013 5th round pick of Carolina) on a PTO.  Pedersen is in his first year of pro hockey after three years of university hockey with Laurentian.  He started this season with the Orlando Solar Bears of the ECHL scoring seven goals and adding 15 assists for 22 points in 22 games.  The Moose bench boss had this to say about the newest player on the Manitoba roster "I liked him a lot.  When he told me the kind of player he was before the game when I first met him, was exactly what he brought on the ice.  Straight line skating is pretty good, he is good at wall plays, winning battles, getting the puck out.  He supported what he said with his game.  I liked his game.  And I liked the fact that he knows who he is as a player.  That goes a long way."
In speaking to Pedersen he has some familiarity with some players on the Moose indicating he and Logan Stanley grew up in the same area as well as Charles-David Beaudoin, who also played university hockey.
Nelson Nogier on his time up with the Jets:
Last week I spoke to Jets 2014 4th round selection Nelson Nogier about his recent recall by the Jets.  Nogier you might remember had that unexpected run during his rookie season of 10 games with the Jets in 2016-17 before missing most of last season with an injury sustained in the first pre-season game.  With the Jets D decimated by injury he once again got a chance to go up to the big club and I wondered what that meant for a player who was coming off an incredibly tough 2017-18 season.
On receiving the news he was being recalled  "It was exciting.  To be honest it wasn't something I had expected.  Obviously with the circumstances up with the Jets with their injuries there was room for that call to be made and I was just happy that I was able to set myself up to be in a position to be the one who receives the call." Now it is one thing to be recalled to hold a practice spot but another when you find our you are playing in an NHL game  "It was exciting.  It was lots of fun.  It is something that I am working for each and every day and to get into a game was a really good feeling."  On the extra motivation he may have this season after getting another game in the NHL "It adds a lot more motivation having got that game in this year to know there is still room to push."  Lastly, the comfort being recalled this time around considering how many former Moose players are currently up with the Jets "We're fortunate enough here to have both teams in the same place.  The relationship between the American league team and the National league team is tremendous.  I wouldn't know what it'is like in any other organization but with how close knit both groups are, it definitely helps that transition and allows for friendships to grow both on and off the ice."
Roster move:
The team announced that prospect Mikhail Berdin was sent back to Jacksonville while recalling Ken Appleby back up to the Moose.  Good opportunity for the Jets 2016 6th round selection to get in some games as the Icemen play the 19th, 20th and 21st this week.
Up next:
The Moose will be skating at six different community centres as they join some local clubs for practice.  They return to their own practice on Wednesday at the IcePlex at 10:30 am as they prepare for a pair of games against the Grand Rapids Griffins this weekend at Bell MTS Place.
As always stay tuned for the latest Winnipeg Jets and Manitoba Moose news by keeping it locked to our web site  illegalcurve.com and on social media including Twitter | Facebook | Instagram.  You can also follow me on twitter as well (@icdave).