9:10 pm:  We spoke with Mathieu Perreault, Paul Postma and Ben Chiarot.  Listen here.
9:02 pm:  Jets announce that attendance is just over 10,000 fans.
8:45 pm:  After the Skills Competition ended the players came out and gave away autographed Jets gear.
8:37 pm:  Chris Thorburn is now the only undefeated member of the Jets in Skills Competition as he and Team Blue beat the only other previously undefeated player Bryan Little who was on Team White.
8:30 pm:  Skills competition comes to an end.  A Joel Armia goal wins it and seals a Team Blue comeback.
8:25 pm:  We head into the final contest with Team White leading Team Blue 11-6.
8:23 pm:  At every opportunity the players signed autographs for the fans.
8:20 pm:  Final event of the evening.  Breakaway Competition.
8:15 pm:  In the end Ben Chairot is your back to back defending hardest shot champion.
8:10 pm:  Byfuglien failed to crack the 100 mph plateau.  But defending 2014 champion Ben Chiarot destroyed last year's 103 mph hitting 107.7 mph on his third shot.
8:05 pm:  Setting up for the hardest shot competition.
7:59 pm:  Team Blue takes heat 2 in a close finish with Joel Armia edging out Paul Postma.
7:56 pm:  Team White wins heat 1 easily.  Scheifele blows a tire and Pardy tried a counterclockwise dangle.
7:50 pm:  Next we have the Jets Puck Relay Competition.  Two heats.
Heat 1:  Perreault/Burmistrov/Peluso (Team White) vs. Scheifele/Pardy/Lowry (Team Blue)
Heat 2: Postma/Ehlers/Copp (Team White) vs. Trouba/Armia/Chiarot. (Team Blue).
7:45 pm:  In the end my pre competition favourite Mathieu Perreault was your winner.
7:43 pm:  While Blake Wheeler cruised through the contest hitting four targets in 12.4 seconds but Mathieu Perreault got all four in 9.5 seconds.
7:33 pm:  Jets Accuracy Competition is up next.  While we wait for the targets to be put on the net the Jets players head to the side boards to sign more autographs.
7:30 pm:  Your winner is Paul Postma.  Defends his title from 2014.  This year he did it in 14.16.  Last year he was at 13.90.
7:20 pm:  Nikolaj Ehlers was my pre race favourite.
7:15 pm:  Fastest skating competition is up first.
7:10 pm:  Players are mixing with fans.  Signing autographs with the glass down.
7:00 pm:  The Jets get ready to take the ice at the MTS Centre.
6:15 pm:  In place beside Ed Tait of the Winnipeg Free Press over on the North Side of the Press Box.  The south side was a lonely place to be.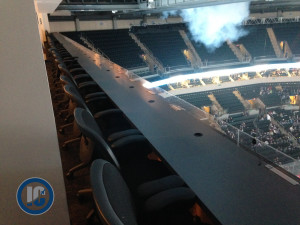 Note:  Dave will be at the MTS Centre covering tonight's Skills Competition.  Stay tuned to illegalcurve.com and on social media including Twitter| Facebook | Instagram for plenty of pictures and videos from the MTS Centre.  I will be live blogging so be sure to bookmark this post and you can follow the action.
2:15 pm: A look at the two rosters.  Chris Thorburn and Bryan Little have been on the winning team for the three Skills competitions that the Jets have held.  Today however they are on opposite sides so just one will hold the title after this evening.
| | |
| --- | --- |
| TEAM WHITE | TEAM BLUE |
| Dustin Byfuglien | Jacob Trouba |
| Tobias Enstrom | Tyler Myers |
| Paul Postma | Ben Chiarot |
| Mark Stuart | Adam Pardy |
| Bryan Little | Blake Wheeler |
| Andrew Ladd | Mark Scheifele |
| Mathieu Perreault | Drew Stafford |
| Nikolaj Ehlers | Chris Thorburn |
| Alexander Burmistrov | Adam Lowry |
| Anthony Peluso | Joel Armia |
| Andrew Copp | |
| Michael Hutchinson | Connor Hellebuyck |
Past Skills Competition Results:
2014:
Fastest Skater – Paul Postma (13.90 seconds)
Accuracy – Andrew Ladd (4/5, 10.0 seconds)
Hardest Shot – Ben Chiarot (103.0mph)
2013:
Fastest Skater – Mark Scheifele (13.673 seconds)
Accuracy – Bryan Little (4/5, 12.0 seconds)
Hardest Shot – Anthony Peluso (103.9 mph)
2011:
Fastest Skater – Tim Stapleton & Evander Kane (14.06 seconds)
Accuracy – Kyle Wellwood (4/4, 9.38 seconds)
Hardest Shot – Dustin Byfuglien (104.0mph)