When the 2019-20 season began the Moose had a trio of Jets prospects on defence in first-year pros Leon Gawanke and Johnathan Kovacevic as well as second-year pro Luke Green.  With a number of guys ahead of them on the depth chart it looked like it would be a year where the players would play every second or third game as the Jets AHL affiliate used a rotation for this trio.  However with guys getting recalled up to the parent club here in Winnipeg and other players getting injured (including Luke Green) it presented an opportunity for Jets 2017 5th rounder Leon Gawanke and Jets 2017 3rd rounder Johnathan Kovacevic to really amp up their learning curves courtesy of playing every game for Manitoba.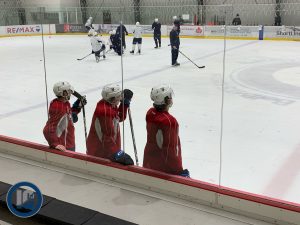 The Moose have played 48 games this season with Leon Gawanke suiting up for 36 contests, contributing one goal and 17 assists while Johnathan Kovacevic has played in 33 games and has four goals and six assists.
Following practice at the IcePlex on Monday I asked head coach Pascal Vincent what he has seen from this duo in their first year and the expanded role they have with his squad. "That's the beauty of the American League.  We had Green, Kovi and Leon in a three-man rotation but that's early in the season, perfect world, no injuries.  Our reality is that's not going to stay like this.  So we knew at some point it was just a matter of getting them prepared for what was coming.  We don't know when it's coming but we know at some point it's going to come.  You take a guy like Leon who was in a three-man rotation and now he's playing on the top power play and he's playing against the top line or second line and that's why we exist.  That's our goal with the American League."
He continued "You want to win games, we want to put them in a winning environment where we can evaluate them and give them the tools physically and mentally to get better to become the best player they can become but also to give them the opportunity to play in different situations and sometimes they aren't necessarily ready to play against the top line but that mileage over time will make a difference.  I remember in my first year with the Moose we had a young Jack Roslovic and those guys and they were playing in positions they weren't necessarily ready but we could see the benefit the second year, and then the third year he made it to the Jets.  These moments are crucial for our young players development, especially our defence, we have a really young D corps.  These moments in the season are crucial for those guys and their development."
I also caught up with the duo following practice to get a sense of their season to date and how they feel things have gone.
First up Leon Gawanke:
DM:  How are you finding the transition to being an everyday defenceman in the AHL?
LG:  "That was my goal at the start of the year.  I wanted to be in the lineup every game.  Due to injuries, it's unfortunate to the other guys, but I made my way up there so I'm happy with it.  It was my goal and I want to keep going."
DM:  Where have you seen your game improve?
LG:  "I think I've just got way more used to the pace and strength of the game.  Coming from junior its a big transition and I think I've adjusted.  It's getting better and better every day.  In practice I feel more comfortable and I think it translates into games."
DM:  What is your biggest strength?
LG:  "I think I am pretty offensive.  I can move the puck, join the rush."
DM:  From game 1 to today how have you seen improvement in an area of weakness?
LG:  "I started playing more physical.  When I came in I almost never hit but you have to do it.  Especially in front of my net I am getting stronger.  I am not letting guys get there easily and if they get there they are eventually going to get hurt a little bit (chuckles).  I have to keep working in the gym to get stronger."
DM:  How are you finding the transition to Winnipeg?
LG:  "It's nice.  I was in Cape Breton so I am kinda used to cold weather.  It's a bigger city.  I'm from Berlin, I like big cities.  It's been nice so far."
DM:  Have you been able to connect with anyone here in Manitoba with German heritage or are you sticking with your Moose teammates?
LG:  "Obviously I have a lot of buddies on the team but one of my good friend's from back home (Nino Kinder), he got drafted to the Winnipeg Ice this year, so when we are both here we hang out."
DM:  Does your family watch your games?
LG:  "My mom watches all of the games.  My dad and grandparents watch them too.  When I played in Cape Breton they actually did stay up because it was only five hours difference so they were watching them in the night.  Most times my mom watches it in the morning or my grandparents in the day.  I get a lot of support from them."
Next up Johnathan Kovacevic:
DM:  How have you seen the adjustment from the three-man rotation to an everyday role?
JK:  "I'm still learning about that everyday role.  Before it was pretty much I was playing one every three games so you have a long time to prepare.  You have a lot of time to get your body and mind right just for one game.  Couple of weeks ago we have four games and I am playing all four games whereas in the past if we had four games, I'd probably play one of those four.  It's kinda been a blessing for me to get this opportunity.  At the beginning I was just learning how to fit in the league and what kind of role I could play in the league, just from that game and then I'd learn from just being in the press box but now I am learning how to sustain that more for a full season because I am getting into every game.  God willing, hopefully I stay healthy and can keep playing in every game.  I'm just trying to make the most of the opportunity I am getting."
DM:  What areas coming into the season did you most want to work on and where are you at with them?
JK:  "Coming in I knew I had to adjust my role.  In college I played every situation, played big minutes and obviously I know right away coming in you have to earn trust.  I'm just working on foundation things.  Obviously I am a big D so I want to use my body and I want to be hard to play against down low and just really defend well with my stick.  Right now I am just focused on simple things, kind of like pillars of what I think should be part of any defencemans game and hopefully as my game continues to grow I'll work on the offensive side of the puck and more jumping into the rush.  For now that's not my main focus.  I am trying to help the team in all areas but my main focus is defending and being a solid, reliable guy for the team."
DM:  What it is like to be playing in a top pairing role when maybe coming into the season that wasn't necessarily the plan?
JK:  "There are some times if I am matched up against the other team's top line when I think 'wow I am playing against some really good players I have to stay sharp' and ya its definitely cool to be playing there.  It's not my final goal but it's a big step along the way.  If i can play well and shut down guys that are some of the best players here, who are probably close to making the NHL, it's definitely a great learning experience for me."
DM:  How are you  finding the adjustment to living in Winnipeg?
JK: "I love it actually.  My brother for his job changes location every three months so he got to come down to Winnipeg and we got to hang out a bunch.  He was kinda with me for a couple of months.  I'm living with Jansen Harkins who has been here for a couple of years and he's settled in.  Obviously he got called up and I'm happy for him as it's nice to have a roomate but at the same time we have different schedules so we're a little more independent.  I look after his dog when he's gone so it's nice to have company in that sense too (laughs).  But we have a great group of guys here which makes it easy to enjoy the city.  I think anytime you are learning a new city having people around you is definitely a key to enjoying it and I have the right people around me.  I do really like the city.  I've heard it's a mild winter so far, relative to other winters, so I haven't had too much of a problem with the cold.  I've been enjoying it a lot."
These two along with their Moose teammates will be back in action Thursday night in Winnipeg to kick off a critical six-game homestand.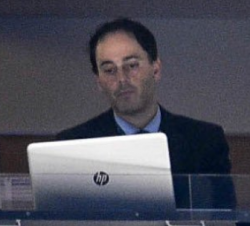 Latest posts by David Minuk (see all)