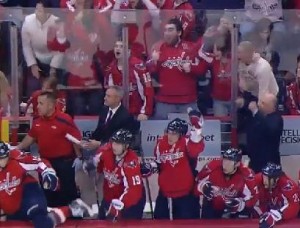 The Jets were lucky to escape D.C. with a point tonight as they didn't play their best game.  Here are some game recaps, video highlights and the 3 Stars.
Here are some additional recaps:
Winnipeg Free Press:  Capitals down Jets 4-3 in overtime.
Winnipeg Sun:  Jets lost to Capitals in OT.
Globe and Mail:  Washington solves Pavelec this once.
Washington Post:  Chimera scores twice, including game-winner as Caps top Jets 4-3.
Washington Times:  Furious penalty kill backs Capitals' 4-3 OT win.
CSN Washington:  Chimera lifts Capitals past Jets in OT.
NHL.com:  Capitals ground Jets 4-3 in overtime.
Three Stars:
1st:  Jason Chimera
2nd: Alexander Semin
3rd:  Alexander Ovechkin