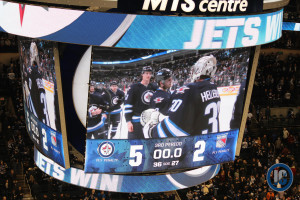 Game Stories:
Winnipeg Free Press: Leaders lead way to win.  (Paywall).
Winnipeg Sun:  Jets strike early, down Rangers.
CBC:  Ladd's demotion underlines Jets depth issues.
NHL.com:  Little, Wheeler lead Winnipeg Jets to 5-2 win over N.Y. Rangers.
New York Daily News:  Derick Brassard's line struggles as Rangers fall to Jets 5-2.
Post-game audio:
New York Rangers:  Coach Vigneault, Derek Stepan and Henrik Lundqvist.  To listen click here.
Winnipeg Jets:  Blake Wheeler, Andrew Ladd and Tyler Myers.  To listen click here.
Coach Maurice post-game presser: Coach Maurice met with the media following the game against New York.  To listen click here.
Press box Podcast:  Host and analyst Richard Pollock breaks down the Jets play against the Rangers this evening.  To listen click here.
Video Highlights:

NHL.com 3 Stars of the Night:
1. Bryan Little
2. Blake Wheeler
3. Henrik Lundqvist