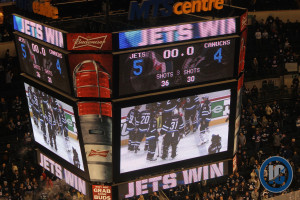 Game Recaps:
Winnipeg Free Press:  Jets nip Canucks 5-4 in key pre-playoff game.
Winnipeg Sun:  Jets beat Canucks in wild 5-4 win.
NHL.com:  Jets hold on to defeat Canucks, get 40th win.
Sportsnet:  Jets reclaim playoff spot, defeat Canucks.
MyToba.ca:  Jets one step closer to playoffs.
ChrisD.ca:  Jets slip past Canucks 5-4.
Vancouver Sun:  Jets soar past Canucks, who crash at end of trip.
The Province:  Canucks give the home fans an edge-of-their-seats gift with loss to Jets.
Post-game Audio:
Winnipeg Jets:  Ondrej Pavelec, Jim Slater, Adam Lowry, Mathieu Perreault and Lee Stempniak.  To listen click here.
Vancouver Canucks: Coach Desjardins, Henrik Sedin, Eddie Lack and Alexandre Burrows.  To listen click here.
Coach Maurice post-game presser:  Coach Maurice met with the media following the game against Vancouver.  To listen click here.
Pressbox Podcast:  Host Drew Mindell and analyst Richard Pollock break down the Jets play against the Canucks this afternoon.  To listen click here.
Video:
NHL.com 3 Stars:
1. Lee Stempniak
2. Mathieu Perreault
3. Daniel Sedin