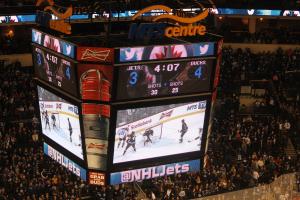 Game Stories:
Winnipeg Free Press:  Palmieri scores in overtime for Ducks' 4-3 win over Jets.
Winnipeg Sun:  Ducks go top shelf to find win.
CBC:  Kyle Palmieri's OT goal lifts Ducks over Jets.
NHL.com:  Palmieri lifts streaking Ducks past Jets in OT.
ChrisD.ca:  Ducks soar over Jets, 4-3 in overtime.
Orange County Register:  Ducks fly away with a win in Winnipeg.
Post-game audio:
Winnipeg Jets: Andrew Ladd, Jacob Trouba, Mathieu Perreault and Dustin Byfuglien.
Anaheim Ducks:  Ryan Getzlaf, Kyle Palmieri, Colby Robak and Coach Boudreau.
Pressbox Podcast:  Host Drew Mindell and analyst Michael Remis break down the Jets play against the Ducks this afternoon.
Coach Maurice post-game presser: Coach Maurice met with the media following the game against Anaheim.
Video Highlights:
NHL.com 3 Stars
1.  Jacob Trouba
2.  Ryan Getzlaf
3.  Kyle Palmieri