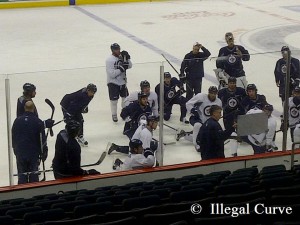 The following quotes were taken from Coach Claude Noel's scrum with the media earlier this morning.
With two days in between games, the Jets had a light practice this morning. After being defeated last night by the powerful Penguins, Coach Noel's thoughts today, hadn't change much.
"I never watched the tape; my thoughts today aren't different than last night. The game was what it was, it was a hard situation to stop, I make take time today to look at parts of the game, we'll see how it goes. I have to dig in and take a look. You have to give them credit they are a good team, that doesn't change today."
It was obvious to everyone on TV that the Jets simply couldn't keep up with the high powered offense of the Penguins, it is interesting though that Coach would admit that to the media as well.
"I liked some things about the game, things I didn't like on Sunday was the response back from the game on the Friday against Washington. There are some things I thought we were in the right place going in the right direction it was a little bit wide open the way it started. But we started the same, we scored early, they scored, we scored. It was back and forth, it was not really what I would have painted that game to be, but that's what they can present. We were right there with them, they just kept going and we weren't able to keep up."

"I think the mentality was there as far as defending, I just don't know if we were able, your want is one thing. You watch them move the puck around on the power play, it was frightening, they looked like they had eight guys out there not five, and we looked like we had two. That's their level of skill. It's not because our want wasn't there, it's just our ability at that time, it was really tough."
After a tough loss, Coach knows it is important to put it in the rear-view mirror and look forward to the next task at hand. Today was a practice for getting loose, tomorrow will be for preparation.
"The mood for me, we have to move past that, we can't get into an emotional roller coaster, winning and losing and celebrating because we beat Washington. We have to keep ourselves at an even keel, we have to move forward. My objective today was just to try to enjoy our time a little bit, have a bit of fun in practice. Tomorrow's more of a preparation day for Washington to be more specific and our energy will be channeled into that practice. Today it was getting ourselves feeling a little bit loose, get a little sweat on, enjoy our time here and get ready for the game on Friday."
The Jets have had some success against Washington this year going 3-1-1, Noel says a big key to their play is defense:
"(A key to success is) checking some of their key players, Ovechkin is a big part of that. Green hasn't played against us, but they have some guys that can hurt you. The last time here, we were fortunate, we got the lucky bounce on (Byfuglien's) red line shot. We've played them pretty close, the key for us is if we can keep them in check and defend against them, which is pretty much the way we need to play all the time."
On the play of call up Spencer Mahacek who now has three points in four NHL games this season:
"He was good when he was here before, for me I didn't have any thoughts in regards to he needs to be this and needs to be that. He's played well for us, he's contributed, he has some decent energy in the game. He had a couple turnovers in one shift against Malkin, but you have to recognize who you're playing against. I'm happy with him and Maxwell. Maxwell's done a good job, he looked like he had poise in the game and made some good plays."
Andrew Ladd, Tobias Enstrom and Dustin Byfuglien didn't practice today, it was just a maintenance day.
"Just maintenance, that what happens hwen you play in these game,s sometimes things flare up and you'd be smarter if you just manage the injuries. Tomorrow is the day we have to focus more on our preparation."
Eric Fehr, who was hurt in Friday's game against Washington accompanied the Jets on the road trip:
"We don't know about Eric, we'll have to reassess that, we brought him in hopes that things would be ok with him, we're not sure, and we are reassessing that situation today. I'm not sure if he's going to be a player on Friday, we're hoping, but I have to talk a bit more in depth to the training staff."
On the play of the goaltenders:
"Certainly for me, either guy has always been good, there's no reason to make changes. I'm not disgruntled at any of the goalies, they do their job, they're good."
It looks like Ondrej Pavelec will get the start Friday at Washington, it will be his career high 62nd start of the season.