Coming off of a terrible game against New Jersey, the Jets take on the Sabres tonight at 7:30pm CST. If  Winnipeg has any hopes of making the playoffs, this is a must win against the underachieving Buffalo team who are 11th in the Eastern Conference.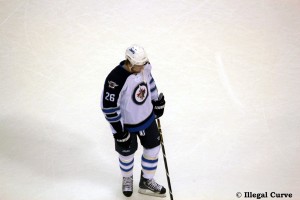 The big news at practice this morning was that Blake Wheeler and Zach Bogosian were on the ice skating. Wheeler said his neck was only bruised as he turned at the last second and it did not hit him in the Adam's apple.
Here's the audio of Blake Wheeler talking about his injury
Zach Bogosian returned to the ice this morning, he had remained in Winnipeg while the team was on the two game road trip. Bogosian was one of the last players off the ice, showing that he is close to to returning. However, when asked if he would be playing tonight he said that he was  "day to day". The 21 year old defenseman was pressed about what the exact injury was, but he would only say "lower body"
Bryan Little spoke about his reaction to Wheeler's injury, the challenges facing Buffalo tonight, and getting back into the swing of things after his injury. Little has one point in six games since coming back in Buffalo on January 7, 2011.
Coach Claude Noel spoke about a number of items, he said Bogosian should be able to play Saturday, Wheeler will play tonight and talked about the challenges that Buffalo brings to the table for tonight's game.