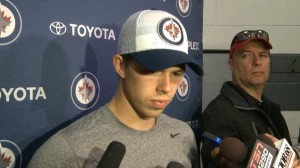 Selected in the 2012 NHL Entry Draft, Scott Kosmachuk spoke with the media today following day 2 on the ice with the other prospects.
Scott Kosmachuk –  Any difference to his approach as a pro instead of as a junior?  Does he have experience he can apply for this?  Different mindset this time around?  Was he able to learn something from the Memorial Cup run?  Has he gotten over it?  Did his coaches help him get ready for the next level?  What is it going to take for him to take the next step? Does he have more confidence in himself as a goal scorer?  
Audio courtesy of TSN Radio 1290.