The Moose have been dominating as a team in November going 12-2-0-0 this month.  Many players have been performing extremely well and today two of their players got recognized for their play.  Jack Roslovic has played extremely well at both centre and wing for the team this season and as Mike McIntyre of the Winnipeg Free Press illustrated after last night's 7-1 Manitoba win, Michael Hutchinson has been facing a lot of rubber (and stopping most of it).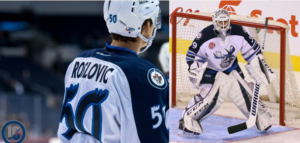 Moose Release:
The Manitoba Moose, in conjunction with the American Hockey League, are pleased to announce forward Jack Roslovic has been named the CCM/AHL Player of the Month for November and goaltender Michael Hutchinson has been named the CCM/AHL Goaltender of the Month for November.
Roslovic, 20, led the AHL with 19 points (8G, 11A) in 14 games through the month of November.  Roslovic's goal total tied for the league lead and his assists were tied for second in the AHL.  The second-year pro tallied points in nine of his 14 contests, including six multi-point performances.  The league's second-leading scorer registered point streaks of five games and three games in the month as the Moose posted a 12-2-0-0 record in November.  Roslovic tallied the game-winning goal in two of those victories with one coming Nov. 8 in Stockton and another on Nov. 17 at home against Chicago.  Roslovic's highlight of the month was a four-point (2G, 2A) showing in that Nov. 17 contest.  The Columbus, OH native was solid at both ends of the ice, coming out an even, or better, rating in all but one game this month.  In total, Roslovic tied for the league-lead with a +13 rating in the month.  Overall, Roslovic has 26 points (12G, 14A) for the season, good for a share of second in league scoring.  Manitoba's leading point-getter is also tied for second on the AHL's goal list.
Hutchinson, 27, had outstanding numbers across multiple categories this month, allowing just eight goals in six starts for a 1.33 goals against average and 0.965 save percentage.  Hutchinson went undefeated in November, with a 6-0-0 record, allowing just one goal in four starts and two goals in two starts.
Hutchinson was also one of the busiest netminders in the league in the month, facing 226 shots, an average of 37.7 per game.  The highlight of the former third round pick's month was a 47 save performance, the most by any AHL goaltender this month, in a victory over Rockford on Nov. 28.  Hutchinson's month brought him into the league leaders in save percentage (0.947 – T1st) and goals against average (1.90 – 4th).
Both Roslovic and Hutchinson will be presented with an etched crystal award prior to an upcoming home game in recognition of their achievements.
They both spoke today following Moose practice at the IcePlex: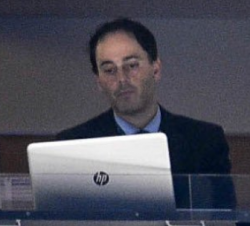 Latest posts by David Minuk (see all)