Moose forward and Jets prospect (2017 7th rounder) Skyler McKenzie was having a nice first year pro having scored eight goals along with eight assists in 47 games for Manitoba this season being given an opportunity to play up and down the lineup.  He last played on March 2nd in Belleville which was the last game of the six they played on the road but was injured in the contest according to coach Vincent.  On March 15th coach Vincent told me that McKenzie was "not day-to-day, more like week-to-week or maybe more."
With the Moose about to head out on the road I asked the Manitoba bench boss for an update last night and he once again reiterated that the spirited Moose forward remains "week-to-week".
Manitoba heads out on the road for 10 days to play five critical games and then they return to Winnipeg for their final home games of the regular season starting April 2nd.  Suspect it will be around then we will get an update on McKenzie's status for the remainder of the regular season.
As always stay tuned for the latest Winnipeg Jets and Manitoba Moose news by keeping it locked to our web site  illegalcurve.com and on social media including Twitter | Facebook | Instagram.  You can also follow me on twitter as well (@icdave).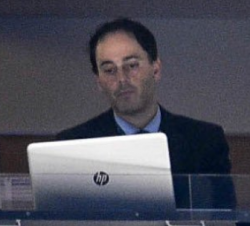 Latest posts by David Minuk (see all)