The Illegal Curve Hockey Show airs from noon to 3pm on TSN Radio 1290 in Winnipeg. The following interview is transcribed and paraphrased from the latest episode (available in its entirety at the bottom of this post.) Subscribe on iTunes and have the podcast automatically sent to you as soon as it becomes available.
On Saturday's Illegal Curve Hockey Show, former columnist, Hockey Night in Canada commentator, and Hockey Hall of Fame journalist, Al Strachan came on the show to discuss the latest in hockey.
The outspoken commentator provided the insight and analysis that he has become known for throughout his hall of fame writing career.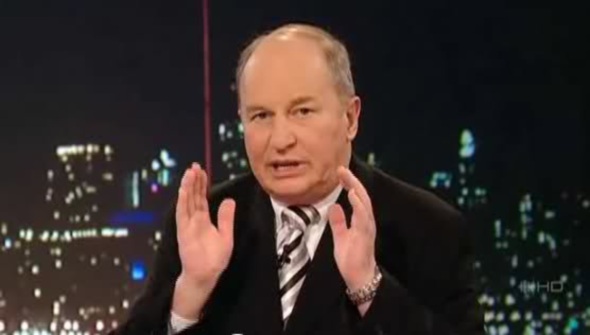 On Brian Burke's free pass in Toronto"
"They fired the wrong guy, you look at what Burke has done over the years it's all smoke and mirrors. It's like the Wizard of Oz, there's all this thunder and lightning coming from behind the curtain and when you get behind the curtain, really there's nothing much there."

"He won the one cup in Anaheim with a team that was built by Bryan Murray except for two defenseman, one of whom wanted to come play with his brother, that was Niedermayer, and one of whom walked out on a valid contract in Edmonton because he wanted to keep his marriage alive, that was Pronger. Those two fell into his lap."
On the future of Montreal
"Part of the problem in Montreal is that they insist it being a Quebecois team, that really limits your options. Because the Quebecois aren't as dominant in hockey as they used to be. That was fine in the 50s and 60s when a large proportion of the players, especially the elite players came out of Quebec. But now that's no longer the case."

"Really, who do you want (as Head Coach), who is a French speaker to come in there, you had Jacques Martin, you know his style of hockey. There's simply aren't that many available. There was one good one available; he went to Tampa (Guy Boucher). What do you want to do, bring in Patrick Roy? You think you've had fun before in Montreal, wait until you bring him in."
On the situation in Phoenix
"I think they're going to move it to Seattle, the plans have been well underway long before the announcement of this building. I heard about this months ago, financiers who are trying to put together a package to move that team to Seattle, that building that's coming around now is part of that concept. The league would be very happy to do that, it's a shame because that building (Jobing.com arena) is probably the best building for a fan in the entire league. It has magnificent sight-lines, wide concourses, plenty of parking….it's a shame really because it's a pretty good team, they haven't been among the league's worst for the past five or six years. They're a good team this year, yet they don't have that kind of support."

"The big problem that Gary faces the people who build buildings are big money people, these are people who have their own way of operating, and they really don't like it if somebody among their group, which is an elite financial group in the world, gets shafted by a league. They don't like it when a building gets built and the league walks away from it. They think that the league has a responsibility to maintain something in that building, so the people who built that building, don't get left holding the bag. It looks like that the league is going to do that in Phoenix, and there's talk that they may do the same thing in New Jersey, and that is causing some troubles for the NHL in the upper financial circles"
On Scott Howson calling out Rick Nash
"It is a strange sort of thing, Rick Nash has done yeoman's service in Columbus and is really the only player probably from that franchise you can name over the years. That's another market where it's a shame to see that happen. When they first moved in there, that team really had solid support.  Hockey caught on there for the first three or four years. Rinks were springing up all over that part of Ohio, and something other than Ohio State University was getting attention in the media. But the team never got better, fans will come to watch a bad team for a while if it's a new team, but when that novelty wears off, you have to start doing something else. That was the second level, that was what Columbus never did."

"Rick Nash is the least of their problems, it doesn't really matter that much, if Howson puts a decent team on the ice, then the fans won't worry about what he said about Rick Nash."
On Tim Thomas comments
"They're professionals; people should be allowed to say what they want. I was distressed by what went on, not by what Tim said, but the response to it. There were all these suggestions, oh he's an athlete, why is he commenting. What are we suggesting now, if you're an athlete, you're an idiot? That you don't have the right to comment on things. Should we take away the athlete's right to vote perhaps? Because he's a stupid lug who makes his living physically."
On respect in the league
 "I think there has been awareness among the players that you have to be more careful about things. As for respect, that's more in the media world, than in the real world. You saw what just happened with the New Orleans Saints having a bounty on hurting the opposition. That doesn't exist in hockey, but there is certainly the attitude that if you can hit a guy and hurt him, you don't back off. That is changing a little bit, I don't know if it is respect for each other, but fear of getting suspended. For that we have to thank Shanny, and Coli Campbell."
On the next CBA negotiations
"This time, I don't see the resolve on either side, and especially on the part of the players. I'm not saying there won't be some sort of stoppage, there might be some posturing. For the most part I don't see the resolve in the players that was there in the other two occasions."
The entire interview is available here at Illegal Curve, or subscribe to the podcast on iTunes.
Latest posts by Michael Remis (see all)