Unlike the 1st round the IC team didn't have quite the same level of success.  Over in the East, Dave was the sole representative to pick both series although not surprisingly nobody was able to predict a sweep in either series.
Over in the West, Dave not only was the only one to pick both series, but he accurately picked how many games each series would go.  Apparently Remis is no longer the King of Prognostication.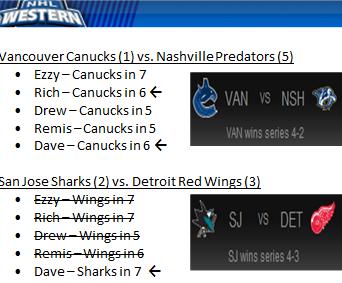 Thanks to IC readers Hbomb (1/4), Polar94 (3/4), Missourimike (0/4) & AllyK (2/4) for getting their predictions in for the 2nd round.  We will have the IC team's predictions for the 3rd round up tommorrow after the show, so be sure to tune in and listen and then submit your picks (via the comments) for the Conference Finals.
Tune into the Illegal Curve Radio show every Saturday from 9am cst to 12 pm cst on Sports Radio 1290, as the IC team delves into all the action from around the NHL.  And if you miss the show, worry not as you can subscribe to the Show via iTunes or for Non-iTunes users, you can subscribe via RSS.