Since Bryan Little tallied the first hat trick for the Jets 2.0 back on December 6th we've have had a number of Jets fans ask us how the team knows which puck actually went into the net.  If a player scores his first goal of the game what would be the significance of that puck?  Why would anyone on his team or on the officiating crew think they would need to fish it out of the back of the net?
I was chatting with a member of the NHL officiating crew the other day and this topic came up.  Turns out that for every goal that has been scored at the MTS Centre, for both the home and visiting teams, the puck is brought to the penalty box where it is has a piece of tape wrapped around it by a member of the NHL officiating team and then they write the players name and particulars of the game on it.
Hence the white tape around Perreault's four pucks back on January 13th.
So there you go.  If you are ever wondering about the authenticity of a goal puck this shows you that the NHL officiating crew is diligent in recording the history of each puck that enters the back of the net at the MTS Centre.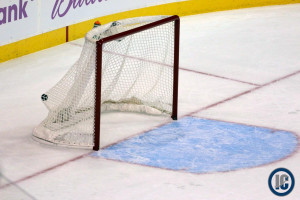 Even the empty net ones!