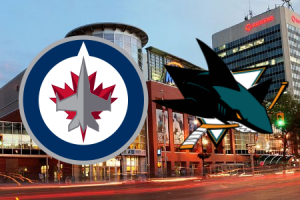 When: Thursday, January 12, 2012
Time: 7:30 p.m. CST
Where: MTS Centre, Winnipeg, Manitoba
Records: Winnipeg (20-17-5), San Jose Sharks (23-11-5)
Television/Radio: CSN-CA (HD),TSN-JETS/ TSN 1290 Radio
The Story: The Winnipeg Jets are back home to face the San Jose Sharks tonight at the MTS Centre but they won't be in any sort of welcoming mood.
After a disappointing four-game road trip that produced just one win in four games, the Jets aren't happy campers so you can't really fault them if they are focused solely on getting two points tonight in their own backyard. The Jets lost 5-3 to the Boston Bruins Tuesday night and remain in 9th place in the Eastern Conference (45 points), just one point behind the Pittsburgh Penguins for the final playoff spot.
The Jets started 2012 with the resolution to win more games on the road but unfortunately that hasn't happened yet. With a game tonight against the Sharks and a home game on Saturday afternoon against the New Jersey Devils, the Jets will instead have to focus on continuing their strong play at home (14-6-1). Tonight's game is only the Jets ninth game against a Western Conference opponent.
The Sharks come to Winnipeg as one of the hottest teams in the NHL. San Jose has only lost once in regulation in their last 10 games and currently sit in 3rd place in the West with 51 points. The Sharks possess some of the best offensive talent in the NHL with Joe Thornton and Joe Pavelski but it has been there defense that has been a bigger story so far this season.
Heading into tonight's game, the Sharks have allowed 92 goals in 39 games (2.36/game), which is good for 7th best in the National Hockey League. The Sharks have received excellent goaltending from Antti Niemi (18-7-5, .917 Save Percentage) this season while veteran Dan Boyle and off-season acquisition Brent Burns lead a physical and skilled back-end.
The Jets may have to face the Sharks tonight without a couple of key players. Defenseman Zach Bogosian left Tuesday night's game against the Bruins with what the Jets are calling a lower-body injury while left winger Tanner Glass left the first period after he was high-sticked in the face by Bruins defenseman Joe Corvo. Alexander Burmistrov will be a game-time decision. Stay tuned to Illegal Curve as we will update you with all the latest news leading up to tonight's game.
Tonight's starting goalie has not yet been announced.
Projected line combinations:
Goalie:
Ondrej Pavelec/Chris Mason
Forwards:
1st: Andrew Ladd-Bryan Little- Blake Wheeler
2nd:  Evander Kane- Tim Stapleton- Nikolai Antropov
3rd:  Patrice Cormier/Tanner Glass- Jim Slater- Chris Thorburn
4th:  Kyle Wellwood- Antti Miettinen-Eric Fehr
Defence:
Ron Hainsey- Tobias Enstrom
Mark Flood-Johnny Oduya
Mark Stuart-Randy Jones
Offensive Leaders:
San Jose Sharks: Joe Thornton (eight goals, 27 assists, 35 points), Patrick Marleau (16 goals, 19 assists, 35 points) and Joe Pavelski (16 goals, 14 assists, 30 points)
Winnipeg Jets:  Blake Wheeler (nine goals, 23 assists, 32 points), Evander Kane (18 goals, 13 assists, 31 points) and Dustin Byfuglien (6 goals, 18 assists, 24 points).
Injury Report:
San Jose Sharks: Colin White (lower body), Martin Havlat (hamstring), Jim Vandermeer (upper body), James Sheppard (knee)
Winnipeg Jets:   Bogosian (lower body), Glass (eye), Byfuglien (knee) is day-to-day for Winnipeg, Derek Meech (lower body) is day-to-day, Burmistrov (mid-body)
Who's Next: The Jets next game is on Saturday, January 14th against the New Jersey Devils (2:00 p.m. CST).
QUICKIES……The new Illegal Curve 5950 fitted hats are now available for sale at City Haul (823 Corydon Ave.)…..