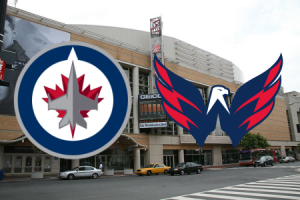 When: Friday, March 23, 2012
Time: 6:00 p.m. CST
Where: Verizon Center, Washington, DC
Records: Winnipeg Jets (34-31-8), Washington Capitals (37-30-7)
Television/Radio: TSN-JETS (HD),CSN-MA (HD)/ TSN 1290 Radio
The Story: The Winnipeg Jets will continue to fight for their playoff lives tonight when they visit the Washington Capitals in the nation's capital.
Two full days have passed since the Jets last game, a devastating 8-4 loss to the Pittsburgh Penguins on Monday night, but the story remains the same as finding a way to win on the road is the only concern.
Heading into tonight's game, the Jets remain in 10th place in the Eastern Conference with 76 points, four points behind the 9th place Buffalo Sabres (80 points) and five points behind the 8th place Washington Capitals (81 points). The Capitals have the most regulation wins of the three teams (Washington has 35 regulation wins, the Jets have 30 regulation wins and the Sabres have 28 regulation wins) and thus hold the important tie break advantage. Washington lost 2-1 in a shootout to the Philadelphia Flyers last night and are 5-3-2 in their last 10 games.
Including tonight, the Jets have 9 games left to play in the regular season, six of which are on the road. After tonight's game, the Jets will close out their three-game road trip with a game against the feisty Nashville Predators (92 points, 5th in the Western Conference). The Jets have one game in hand on the Capitals.
This is the sixth and final meeting of the season between the Capitals and Jets with Winnipeg holding the season series edge with three wins, including the last time these two teams met, exactly one week ago (March 16th), a 3-2 Jets win.
Eric Fehr  and Nikolai Antropov will both miss tonight's game which means Spencer Machacek and Ben Maxwell will start in their respective places.
Ondrej Pavelec is expected to start in goal for the Jets tonight.
Projected Jets line combinations:
Goalie:
Ondrej Pavelec
Forwards:
1st: Andrew Ladd-Bryan Little- Blake Wheeler
2nd:  Evander Kane- Alexander Burmistrov- Kyle Wellwood
3rd:  Tanner Glass- Jim Slater- Spencer Machacek
4th:  Tim Stapleton – Ben Maxwell – Antti Miettinen
Defence:
Dustin Byfuglien- Tobias Enstrom
Ron Hainsey- Zach Bogosian
Grant Clitsome–Mark Stuart
Offensive Leaders:
Washington Capitals: Alexander Ovechkin (33 goals, 24 assists, 57 points), Alexander Semin (18 goals, 28 assists, 46 points), Dennis Wideman (13 goals, 29 assists, 42 points)
Winnipeg Jets: Blake Wheeler (17 goals, 42 assists, 59 points), Evander Kane (28 goals, 23 assists, 51 points), Dustin Byfuglien (11 goals, 35 assists, 46 points)
Injury Report:
Washington Capitals: Alexander Semin (lower body), Nicklas Backstrom (concussion), Tomas Vokoun (lower body), Tom Poti (groin)
Winnipeg Jets:  Chris Thorburn (upper body), Eric Fehr (upper body), Nikolai Antropov (lower body)
Who's Next: The Jets next game is on Saturday, March 24th, on the road, against the Nashville Predators (6:00 p.m. CST).
QUICKIES…..Join The Illegal Curve crew at The Cheer Bar & Grill tonight (corner of Osborne and Stradbrook) for the Jets/Capitals game starting at 6:00 p.m. CST……