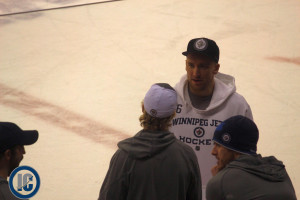 Neither squad will be hitting the ice prior to the final game of the regular season which is a 2 pm start at the MTS Centre.  Coach Maurice indicated yesterday in his scrum with the media "I'm going to take the guys out who I think can be better by not playing" so you can expect he will be sitting a number of regulars which means a different looking lineup today.  Of course he also said he is "not resting players" so he is giving the guys with some bumps and bruises (or may be sick) about a week of non-game play to heal up.
We do know that Michael Hutchinson will be the starting goalie and recently called up Connor Hellebuyck is gonna back him up.  We also know that defencemen Tobias Enstrom and Dustin Byfuglien will both draw back into the lineup.
With the above two goalies in that means Ondrej Pavelec and his three straight shutout will not be dressed this afternoon.  Additionally we know that Bryan Little wouldn't be in the lineup.  From the sounds of it you can probably expect a number of other regulars to be pulled out of the lineup.  When we have a better idea of who that is we will update the post, which may not be until the pre-game warm up skate.
Update:  Coach Maurice confirms that Keaton Ellerby drawing in.  4th line (Tlusty-Slater-Thorburn) remain intact.  Coach is going to try and slot new guys without changing things up too radically.  Some speculation that Copp may play.
Scratched:  Stuart, Trouba, Ladd, Little, Wheeler, Myers,
According to Scott Cruickshank of the Calgary Herald the Flames will also be resting some of their players today.