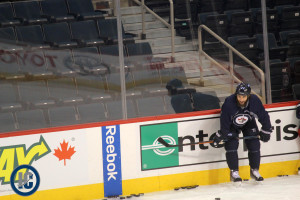 The Jets hit the ice this morning at the MTS Centre as they get ready for the first of four home games that they hope will propel them into the playoffs.
The lines were a bit unclear as the Jets are missing some bodies but also have some new additions in full practice mode according to Mitch Peacock of CBC including Mathieu Perreault, Dustin Byfuglien and Ben Chiarot.  No Andrew Ladd, Bryan Little, Jacob Trouba or Tyler Myers although Little did join the skate later in an orange non-contact jersey.
Coach Maurice just finished his scrum with the media and announced that Byfuglien would be in the lineup after almost three weeks.  Otherwise the lines remain unchanged from the game against the Canucks with exception that Pavelec is in net.
Ladd-Lowry-Frolik
Stafford-Scheifele-Wheeler
Tlusty-Slater-Stempniak
Thorburn-O'Dell-Halischuk
Enstrom-Myers
Stuart-Trouba
Pardy-Byfuglien
Pavelec
Hutchinson
Jets audio:
Blake Wheeler – How is he feeling. Adjustment to wearing a cage? Did he lose any teeth? Thoughts on Montreal. Building confidence from last home stand?
Adam Lowry – On his dad leading Team Canada. Thoughts on game against Canadiens. What made them successful during win streak? On Pavelec elevating his game.
Mathieu Perreault – How does it feel to be back on the ice with the guys?  Does he have a game picked out for his return?  How difficult has it been to go out for this length of time?  His thoughts on the team from the press box.  On getting back on the ice healthy.  Excited to get back into the lineup with the new additions as well as himself, Byfuglien and Little.  On the game vs. Habs.  Where does he see himself fitting into the lineup when he gets back?
Drew Stafford – On the different mentality in Winnipeg. On how good the fit has been for him in Winnipeg. Would he like to stay in Winnipeg? On his ability to generate points in Winnipeg. Did Tyler Myers need a fresh start?  His thoughts on the Habs.  His thoughts on the Habs low GAA.  Is it a break facing Tokarski?  How does his line measure up against the Habs?  Praise for Blake Wheeler.  Seeing Wheeler return, does that provide a boost to the locker room?
Audio courtesy of TSN 1290 Winnipeg.