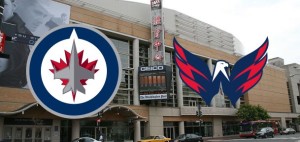 The Jets were off on Sunday.  Lots of eyes will be on this contest and not simply because both teams would like to add two points in the standings bank.  It will be veteran Alex Ovechkin and sophomore Patrik Laine going head to head to see if either can take the lead in the Rocket Richard Trophy race as both sit tied for the NHL lead in goals with 40 on the season.  Ovechkin has already won this award six times in his impressive career.
Morning skate notes:
According to Ken Wiebe of the Winnipeg Sun who reports that Bryan Little, who took a hard slash to end the game in Philadelphia is on the ice for today's skate while Mark Scheifele is wearing a non-contact uniform.  Ken adds "Adam Lowry has shed the non-contact jersey. And Jack Roslovic, who blocked the shot with his foot in third period, has also joined his teammates for the #NHLJets morning skate".  Lastly from Ken he has captain Blake Wheeler skipping skate as well.
On the other side of things Mike McIntyre of the Winnipeg Free Press indicated that Tobias Enstrom and Dmitry Kulikov are both not on the ice for the Jets although he did indicate that Jacob Trouba and Shawn Matthias are in regular uniforms.
Jets lines, D Pairs and starting goalie:
Connor-Little-Wheeler
Ehlers-Stastny-Laine
Perreault-Copp-Roslovic
Tanev-Hendricks-Armia
Morrissey-Myers
Chiarot-Byfuglien
Morrow-Poolman
Hellebuyck
Hutchinson
Extras: Dano.
Injured: Matthias, Lowry, Trouba, Kulikov, Enstrom and Mason.
Audio:
Patrik Laine
Mathieu Perreault
Coach Maurice:  On Patrik Laine's run.  What is Laine's ceiling?  Any changes to the lineup?  Injury report.  When might Scheifele play?  The goalie plan for the back-to-back.  On Laine and Ovechkin going head to head.  What is his appreciation for Ovechkin chasing 600 goals?  On the plan for the lines.  Roslovic fine after blocking shot?  Wheeler fine.  Fine tuning things from Philly.
Audio courtesy of TSN 1290 Winnipeg.
Health Updates:
Goalie Steve Mason had a scope this morning on his knee.  Something didn't feel right in the game the other day said coach Maurice and this means he will be out two to three weeks.  Dmitry Kulikov has returned to Winnipeg to be evaluated and the Jets bench boss anticipates having more information about his veteran defenceman tomorrow.
Mark Scheifele is in a non-contact and back on the ice "feeling much better which is a real positive".  On Jacob Trouba "if it's not Chicago it would be the game after (Stars) possibly".  Adam Lowry is in a full contact sweater and "is not that far off".  Tobias Enstrom "made real good improvements today for the first time but I am going to hold him out today, we'll re-evaluate that tomorrow.".
Shawn Matthias is healthy but requires some further "heavy" practice time according to his coach.
Capitals lines, D pairs and starting goalie:
Ovechkin-Kuznetsov-Wilson
Connolly-Backstrom-Burakovsky
Vrana-Eller-Oshie
Stephenson-Beagle-DSP
Kempny-Carlson
Orlov-Niskanen
Orpik-Jerabek
Grubauer
Holtby
These come via Capitals beat writer Isabelle Khurshudyan of the Washington Post.