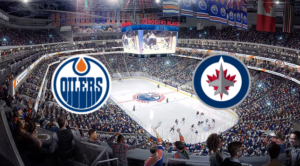 The Oilers and Jets will face off tonight at the brand new arena in Edmonton (Rogers Place).  Lines for the Jets come via Brian Munz of TSN 1290 Winnipeg:
Laine-Little-Armia
Connor-Perreault-Burmistrov
Tanev-Lowry-Thorburn
De Leo-Copp-Peluso
Morrissey-Byfuglien
Chiarot-Myers
Stuart-Postma
Hellebuyck
Hutchinson
Player Audio:
Patrik Laine:  Facing NHL talent.  What is working well on the power play?
Connor Hellebuyck:  Is there extra pressure on him to perform in these games? Does it help that he played all those games last year?
Adam Lowry:  On being one step closer to start of regular season.  On seeing a new rink.  Power play opportunity.
Coach Audio:
Topics: On tonight's lineup.  Are there still jobs to be won?  How many jobs are still up for grabs?  On the young players in the lineup.  The amount of growth in Nikolaj Ehlers game since last year's camp.  Modifying a young stars game.  Is he planning on starting the season without Jacob Trouba?  How does that uncertainty impact his planning?  Having to plan without Trouba.  Where is Hellebuyck on his board?  What does he expect from Hellebuyck tonight?