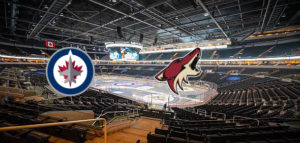 A good old battle of the Jets 2.0 vs Jets 1.0.  Wonder if we will see an appearance by Benny?  Arizona comes into town having lost three straight games and sitting last in the Western Conference with a 12-31-9 record.
The Jets are dealing with injury concerns having lost Tanev/Hendricks last game and Adam Lowry, who was placed on IR yesterday.  In their place the team has recalled Nic Petan and Brendan Lemieux back from the Moose.  While Tucker Poolman did skate as a forward yesterday at practice and there was some discussion about him playing up the expectation is Petan and Lemieux will both be in the lineup today.
Morning skate notes:
Skate has begun at Bell MTS Place and Ken Wiebe of the Winnipeg Sun indicated that Tucker Poolman is back in his usual defenceman uniform which would appear to confirm that, as expected, both Petan and Lemieux draw back into the lineup.
Ken added that it looks like maintenance for Dustin Byfuglien, Toby Enstrom and Connor Hellebuyck who are not skating this morning.  Coach Maurice confirmed that all three are fine and will play tonight.
Jets lines, D pairs and goalies:
Laine – Wheeler – Roslovic
Perreault – Little – Ehlers
Connor – Copp – Armia
Lemieux – Petan – Dano
Morrissey – Myers
Enstrom – Byfuglien
Chiarot – Kulikov
Hellebuyck
Hutchinson
Extra:  Poolman
Injuries:  Tanev, Hendricks, Trouba, Scheifele, Mason, Lowry and Matthias.
Audio:
Nic Petan
Nikolaj Ehlers
Blake Wheeler
Coach Maurice:  Update on players missing from today's morning skate.  Thoughts on Nic Petan and what he wants from him at centre.  A need for Petan to play defence.   How have Connor/Roslovic generated offence on the limited minutes on the 4th?  Who does he plan on using on the penalty kill?  Would he consider Armia on PK and Petan on PP?  Dustin Byfuglien's 800th game and what has he learned about him during his time here?  With Scheifele coming back, what changes might we see to the power play?  Update on Mark Scheifele?  What is his message when he is public speaking?  Confidence in Ben Chiarot's game.
Audio courtesy of TSN 1290 Winnipeg.
Coyotes lines, D pairs and goalies:
Rinaldo – Domi – Fischer
Perlini – Stepan – Keller
Panik – Dvorak – Archibald
Martinook – Richardson – Cousins
Ekman Larsson – Goligoski
Chychrun – Hjalmarsson
Connauton – Schenn
Raanta
Wedgewood
A look at the Arizona lineup via Brian Munz of TSN 1290 Winnipeg.