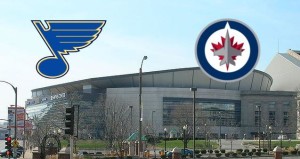 The Jets hit the ice at Scottrade Center for their morning skate.  According to Ken Wiebe of the Winnipeg Sun here are your projected lines and D pairs.  Coach Maurice announced yesterday that Ondrej Pavelec would make the start in net.
Ehlers-Little-Laine
Copp-Scheifele-Wheeler
Matthias-Lowry-Armia
Tanev-Petan-Thorburn
Morrissey-Byfuglien
Enstrom-Trouba
Stuart-Postma
Pavelec
Hellebuyck
Audio:
Patrik Laine:  What stands out from the All-Star weekend?  On fitting in with the rest of the guys in L.A..  Did he have any special conversations?  Importance of tonight's game.  (Nikolaj Ehlers pops in to ask a question)  How did he go minus three at the All-Star game?  Were people surprised with his speed in fastest skater speed?  Getting a chance to hang out with his dad.  Will his experience last year help him in the final stretch drive in NHL?  Was he proud to finish with the second hardest shot?
Jacob Trouba:  On play ramping up post All-Star game.  On the Jets success against the Central.  Both teams bringing out the best in the other.  Importance of the two (four) points.  Is the team closer to their 'identity' and what is it?
Coach Maurice: Wheeler is fine? Importance of post All-Star games. Do they control their own destiny? How does he look at the next block of 30? Did he chat with Laine post All-Star? On Laine's second half last year in Finland benefiting him in second half of NHL game. Does the lack of time off from All-Star impact Laine? Is Perreault an option for Thursday?
Audio courtesy of TSN 1290 Winnipeg.
Here are the Blues lines from Jeremy Rutherford of the St. Louis Post Dispatch with Jake Allen getting the start in net:
Steen-(Jaskin)-Perron
Schwartz-Lehtera-Tarasenko
Fabbri-Berglund-Reaves
Upshall-Barbashev-Yakupov
Allen
Hutton
Stastny wasn't skating this morning so Jaskin took his spot.