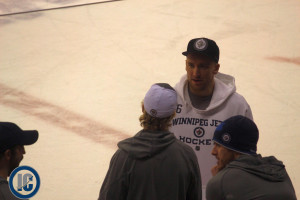 Having played last night the Jets won't have a skate in advance of the game against the Avalanche.  Here are your projected lines and D-pairs.  Update:  Ed Tait of the Winnipeg Free Press has confirmed the lines as follows:
Ehlers-Little-Wheeler
Perreault-Scheifele-Stafford
Ladd-Lowry-Armia
Thorburn-Copp-Burmistrov
Enstrom-Byfuglien
Stuart-Trouba
Chiarot-Myers
Hutchinson
Hellebuyck
Notes:
Coach Maurice hasn't given any indication he might insert one of the usual scratches of Pardy, Postma or Peluso into tonight's game.  We will hear from the Jets bench boss later this afternoon and get a better idea if he will make any changes to the lineup.  Additionally, he hasn't indicated who his starting goalie will be tonight.  Conventional wisdom had Hutchinson possibly making his first start in awhile tonight but he did play 54:09 in relief of Connor Hellebuyck.
Colorado Avalanche:
Projected lines, D-pairs and starting goalie come to us from Brian Munz of TSN 1290 Winnipeg.
Grigorenko-MacKinnon-Duchene
Landeskog-Soderberg-Comeau
Tanguay-Mitchell-Iginla
Martinsen-Wagner-McLeod
Holden-Barrie
Beauchemin-Johnson
Bigras-Bodnarchuk
Varlamov
Pickard